Dermal Filler Treatment at a Glance
During an augmentation with dermal fillers, a gel, typically containing hyaluronic acid, is injected into the skin to create volume, smooth wrinkles, and enhance the overall appearance of the skin.
The effects of dermal fillers typically last between 6 and 18 months, depending on the product used and the individual's metabolism.
Local anesthesia can be administered before the injection to enhance comfort during the procedure, although most fillers already contain a numbing agent.
Possible side effects of dermal filler treatments include redness, swelling, bruising, and in rare cases, infections or allergic reactions.
Facial augmentation with dermal fillers typically does not require downtime. You can resume your regular activities immediately after the procedure.
The initial appointment for a dermal filler treatment typically takes between 45 and 60 minutes, while follow-up appointments usually last between 30 and 45 minutes.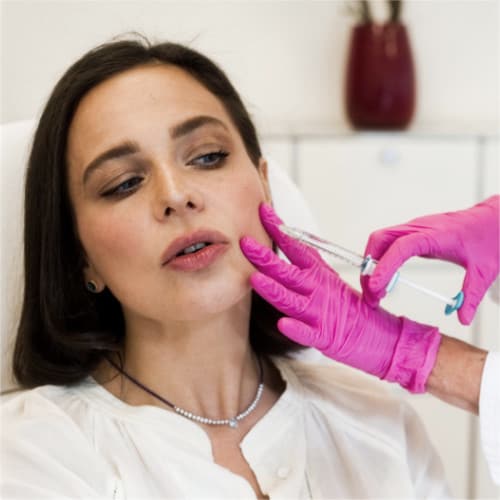 All About Dermal Filler Treatment: The Topics
When to Consider Facial Augmentation with Filler?
Loss of Volume with Age
The aging process leaves noticeable traces on the face, not only in the form of wrinkles but also as a loss of muscle, fat, and connective tissue. Even bone mass decreases over the years.
The lack of volume results in sunken areas of the face without contour and expression. Drooping cheeks contribute to prominent nasolabial folds. The once youthful V-shape of the face increasingly resembles an "O."
Facial rejuvenation with hyaluronic acid (short: HA) can counteract this development. It replenishes lost volume due to aging with a filler substance made of hyaluronic acid. HA is a substance similar to that found in the body and can bind a significant amount of water. Therefore, it is excellently suited as a filling material.
Hyaluronic Fillers for Various Purposes
The classic application of HA in facial rejuvenation was for the nasolabial fold. Over time, many other applications have been added, particularly in the lower third of the face. Marionette lines, for example, are commonly treated with HA injections.
Doctors have a wide range of HA fillers at their disposal, each optimized for specific cosmetic purposes. Whether it's lip augmentation, correcting a receding chin, filling under-eye hollows, or contouring the jawline, HA fillers provide effective solutions.
A recent innovation called "HArmonyCa" combines the advantages of hyaluronic acid with those of hydroxyapatite, an alternative filler material. This allows not only for an increase in volume but also for enhanced collagen production, resulting in a particularly stable and long-lasting effect.
5-Step Treatment Process
In my practice in Munich, the process of facial augmentation with dermal filler follows a fixed five-step procedure, regardless of the specific treatment goal. Patient safety and the quality of the results are always my top priorities. Since no face is alike, I dedicate ample time to each patient and plan the approach individually.
The first step involves a thorough discussion of the patient's initial situation and aesthetic goals. What is the desired outcome of the filler treatment? Is the goal realistically achievable through augmentation with filler? What are the associated costs and risks? Once all questions have been satisfactorily answered, the patient signs a consent form for the treatment and a fee agreement, which establishes the binding cost of the treatment. This step typically takes 15–30 minutes.
Local anesthesia is not always necessary, but I highly recommend it for larger augmentations. In most cases, I use a Xylonest injection, similar to what a dentist uses, to numb the area. It takes effect quickly, so if this step is necessary, it only takes a few minutes.
Thorough cleansing and disinfection of the treatment area are essential to eliminate bacterial infections. Although such infections are rare after a wrinkle treatment, if they occur, the only solution is often to dissolve the injected hyaluronic acid. Therefore, traces of makeup and other impurities must be removed. I then proceed to disinfect the face using a skin-friendly disinfectant. This step takes approximately 5 minutes.
The actual augmentation is relatively quick. When using blunt cannulas, especially in sensitive areas, I first make a hole in the skin with a conventional injection needle. This step is not required when using a sharp cannula for filler injections. I always disinfect the skin before making the injections. The filler injection is performed using various techniques depending on the treatment goal. The dermal filler is either introduced in the form of droplets or strands. I typically follow a specific system, such as a "cheek fan" technique. For certain techniques, especially when significant volume enhancement is desired, I inject the filler in multiple layers. This part of the treatment usually takes between 10 and 20 minutes.
After the injection, I provide patients with cool packs for cooling. Together we take a look in the mirror and do a quick check to ensure everything is okay, and the results meet expectations. We schedule a follow-up appointment in 14 days for a check-up. If any complications arise between the treatment and the follow-up appointment, we will communicate promptly.
Augmentation of Cheek and Nasolabial Fold
What is the Cost of a Dermal Filler Treatment?
The following prices for augmentations with dermal filler are indicative and for orientation only. Individual treatment costs are always calculated according to the rules of the German Medical Fee Schedule (GOÄ) and may therefore differ, even significantly. Please note that health insurance typically does not cover the costs of facial augmentations.
| Treatment | Indicative price in € (incl. VAT) |
| --- | --- |
| Tear trough | 450 |
| Nasolabial fold | 450 |
| Corner of the mouth | 450 |
| Marionette folds | 450 |
| Lip wrinkles | 450 |
| Injecting lips | 330-850 |
| Chin volume | 450-1300 |
| Cheek volume/lift | 850-2500 |
| Liquid lift (3ml Juvéderm) | 1250 |
| Liquid lift (4ml Juvéderm) | 1650 |
| Skin Hydration (Juvederm Volite, Croma Juvenus ) | 390-1100 |
| Dissolve HA with Hylase | 190-280 |
| Consultation | 75 |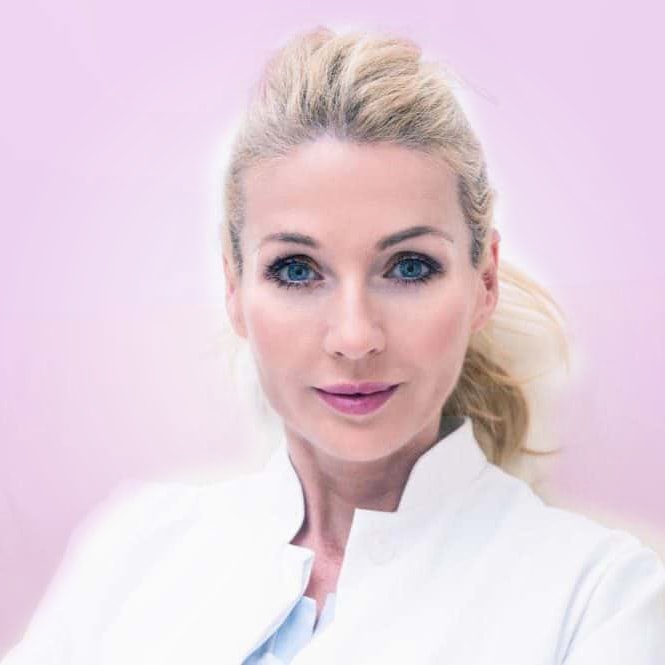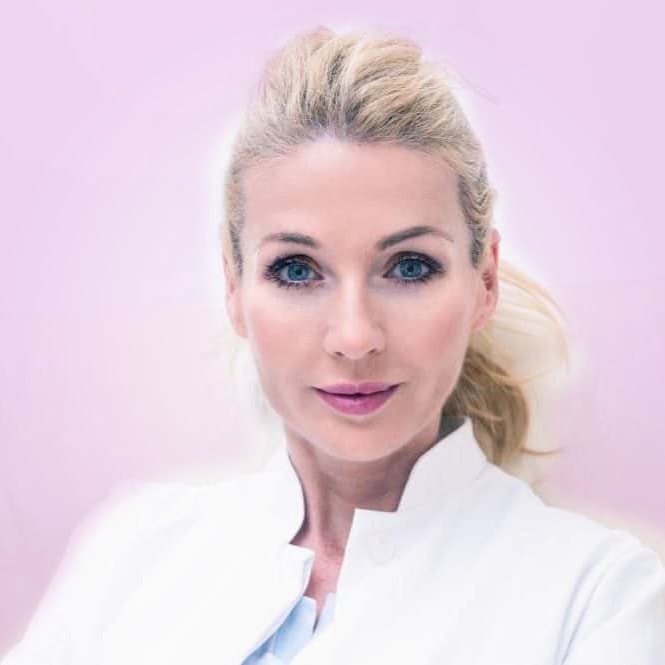 I Look Forward to Your Visit!
Book your non-binding consultation or beauty treatment. All you need is an email address and a phone number.
Frequently Asked Questions
Can a Treatment with Hyaluronic Acid Filler Be Reversed?
Yes, it is possible to reverse the effect of HA filler treatments. This can be done using a medication called Hylase. Hylase contains the enzyme Hyaluronidase, which liquefies hyaluronic acid. However, it is important to note that Hylase is derived from animal tissue and may carry allergenic potential. Its use should therefore be limited to emergencies and major corrections.
Are There Risks with HA filler treatments?
Complications are rare, but can occur. Most commonly, they involve temporary redness, swelling, and bruising that lasts for a few days. Less frequently, there may be persistent swelling, indicating a need for the dissolution of the injected hyaluronic acid. The most severe complication is the accidental puncturing and occlusion of a blood vessel. The blockage of blood supply can lead to severe tissue damage (necrosis) and, in extreme cases, blindness. Such blockages must be considered absolute emergencies and should be immediately resolved with Hylase by trained physicians.
Is Filler Treatment Allowed During Pregnancy?
There is no definitive answer to this question. Manufacturers of HA fillers advise against it. While HA is a substance naturally found in the body, the commonly used pre-filled syringes also contain lidocaine for numbing purposes. Lidocaine is contraindicated during pregnancy and breastfeeding. The same applies to Hylase, which would need to be administered in case of emergency. It is also contraindicated. It is therefore prudent not to have filler treatments during pregnancy and breast-feeding.
Who Should Not Get Dermal Filler Treatments?
In my practice in Munich, I do not treat patients under 18 years of age. Additionally, I do not treat anyone who is allergic to filler components, including the local anesthetic (lidocaine). Injection should not be performed in cases of acute infections, inflammation in the treatment area, and certain autoimmune diseases. Lastly, I do not provide treatment to pregnant or breastfeeding individuals.
Why no Dermal Filler Treatment for Individuals with Autoimmune Disorders?
Autoimmune disorders are often listed as a contraindication for facial rejuvenation treatments. However, there is a lack of clinical data to support this claim. Therefore, it is purely a precautionary measure. Recent studies have also started questioning the blanket rejection of filler treatments for autoimmune diseases. In practice, the decision is made by considering the specific autoimmune disease and the severity of the risk of inflammatory flare-ups. It is a joint decision made with patients after carefully weighing benefits and risks.