Microneedling at a Glance
Microneedling is a minimally invasive procedure designed to enhance the skin's appearance.
During microneedling, the skin is punctured with fine needles, stimulating the natural regeneration process.
Microneedling is suitable for treating wrinkles, scars, stretch marks, and pigmentation spots.
Prior application of numbing cream for local anesthesia is mandatory.
Typical reactions to microneedling include redness, swelling, bruising, and skin peeling. These usually subside within 3–5 days.
Microneedling requires no downtime. You can resume your regular activities immediately after the treatment.
A microneedling session typically lasts 60–90 minutes, including the application time for anesthesia to take effect.
The cost of microneedling varies depending on the size of the treatment area. Prices typically start at around €280 (indicative price, actual costs will be billed according to the German GOÄ fee schedule).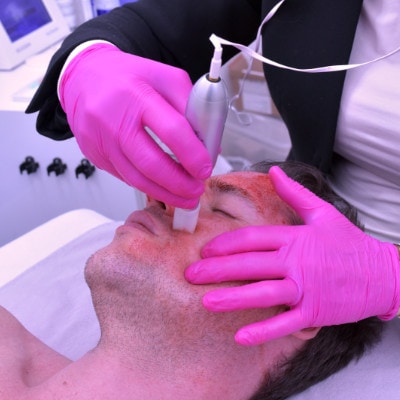 What is Microneedling?
Microneedling for New Collagen and Elastin
Microneedling is a therapy for skin rejuvenation that involves puncturing the skin with a multitude of needle pricks. By puncturing the skin, the production of new collagen and elastin fibers is stimulated.
Collagen and elastin are structural proteins in the body and act as important support fibers that provide stability to the tissues. Collagen fibers play a crucial role in the skin's elasticity and are responsible for a youthful appearance. Elastin fibers provide good contour and support.
The treatment is suitable for overall improvement of the skin's appearance as well as targeted therapy for scars and skin damage. After the treatment, the skin not only looks younger, but also becomes rejuvenated.
Microneedling for Face, Neck, and Décolleté
The treatment is versatile and suitable for all body regions. Treating the face, neck, and décolleté with microneedling is, in my opinion, one of the most effective preventive anti-aging measures. However, the application is not limited to just the face or neck but can also be performed in other areas as needed, such as the arms, legs, or buttocks.
Gentle Procedure
Microneedling is a gentle procedure. Compared to other techniques for skin rejuvenation, it offers a significant advantage: the outermost layer of the skin, the epidermis, is not injured during the needling process. There are no open wounds as seen with procedures like laser or peeling. This significantly reduces the risk of infection and scarring associated with microneedling treatments.
How Deep is the Needling?
In my practice in Munich, we work in the field of "medical needling." The depth of needling ranges from 0.5 mm to 2.0 mm. Needling at a depth of more than 0.5 mm regularly requires local anesthesia, as the numerous punctures would otherwise be difficult to tolerate.
Deep medical needling is characterized by noticeable bleeding that occurs shortly after the procedure. These bleedings are harmless and result from the injury to small blood vessels in the dermis. If there is no bleeding, the needling is not deep enough and may not yield the desired results.
What Results Can Be Expected?
As early as the day after the microneedling treatment, the skin should appear fresher and firmer. For optimal results, two to three repetitions at intervals of 2 to 4 weeks are recommended. In the case of poor skin condition and deeper scars or stretch marks, a fourth and fifth session may be necessary. Afterward, microneedling should be repeated approximately every 6 months. However, you can also have the treatment done more frequently.
5-Step Treatment Process
The microneedling treatment in my clinic in Munich follows a five-step protocol. As this procedure requires a superficial anesthesia with numbing cream, which takes approximately 30 minutes to take effect, the overall duration is relatively long. However, patient comfort is important to me, so I allocate sufficient time for the treatment.
The first step involves a detailed discussion of the patient's initial condition and aesthetic goals. What is the desired outcome? Is the goal realistically achievable? What will be the cost of the microneedling treatment? What are the associated risks? If all questions are satisfactorily addressed, the patient then signs a consent form and a fee agreement for the treatment. This step typically takes 15–30 minutes for new patients.
Unlike superficial microneedling offered at cosmetic studios or performed at home using a dermaroller from the drugstore, "medical needling" requires local anesthesia. The needle depths typically range between 1 and 2 mm, and it would be unbearable without anesthesia. I apply numbing cream for anesthesia before microneedling, which requires a 30-minute waiting period for it to take effect.
Thorough cleansing and disinfection of the treatment area are essential to ensure the prevention of bacterial infections. Therefore, any traces of makeup must be removed. Subsequently, I disinfect the face using a skin-friendly disinfectant. This step typically takes 5 minutes.
Depending on how patients customize their needling program, an enzyme peel can be performed at this stage to remove dead skin cells. For the microneedling itself, we use a device that glides over the treatment area while a stamp punctures the skin at high speed. Thanks to the local anesthesia, patients hardly feel anything during the procedure. If microneedling is combined with other therapies such as PRP or micro-Botox, the corresponding substances are applied to the skin and needled in. To conclude the needling session, a soothing facial mask can be applied.
After the needling, we take a moment to look in the mirror, perform a brief check to ensure everything is okay, and assess whether the results meet your expectations – and you're done. Due to the multitude of punctures, your skin will be noticeably red after the microneedling treatment. Bruising (hematomas) is also possible. The traces of the treatment may remain visibly apparent for several days. It's important to consider this when planning your schedule.
How Much Does Microneedling Cost?
Microneedling prices listed below are indicative and for orientation only. Individual treatment costs are billed according to the German Medical Fee Schedule (GOÄ). Therefore, they may vary from indicative prices, even significantly. Please note that your public or private health insurance will typically only reimburse microneedling costs if they are deemed medically necessary. This is generally not the case for aesthetic microneedling treatments, but it can be possible for scar treatments. To clarify the reimbursement eligibility, it is advisable to consult your insurance provider before undergoing the treatment.
| Treatment | Indicative price in € (incl. VAT) |
| --- | --- |
| Microneedling face | 250 |
| Microneedling face, neck, décolleté | 350 |
| Microneedling treatment + PRP face | 450 |
| Microneedling treatment + PRP face, neck, décolleté | 540 |
| Microneedling + Microbotox Face | 490 |
| Microneedling against hairloss | 220 |
| Microneedling treatment + PRP hair | 280 |
| Microneedling hair + Minoxidil | 220 |
| Consultation | 75 |
The mentioned microneedling prices are indicative. Individual costs are always billed according to the German Medical Fee Schedule (GOÄ). They may therefore deviate from the indicative prices. Please note that your health insurance will only reimburse you for microneedling if it is deemed medically necessary. This is usually not the case with aesthetic microneedling treatments.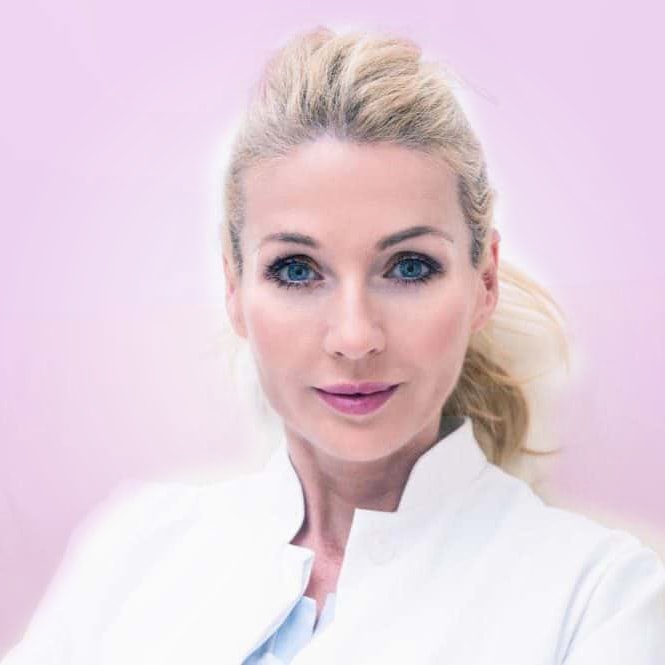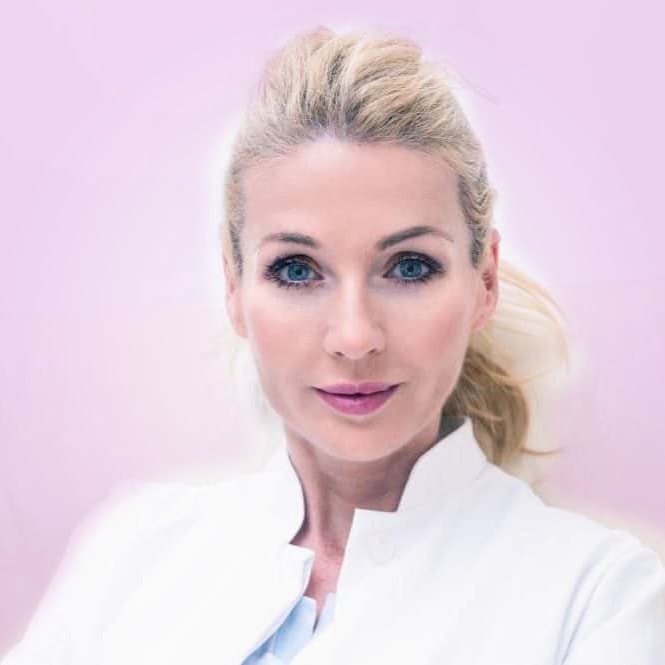 I Look Forward to Your Visit!
Book your non-binding consultation or beauty treatment. All you need is an email address and a phone number.
Popular Articles in the Blog
Unveil the secrets of Vampire Lifting! This article delves into my personal experience with Vampire Lifting, a facial rejuvenation treatment that uses your blood plasma to revitalize your skin. Discover how this treatment, popularized by celebrities, can reduce the appearance of lines and wrinkles, and give your skin a fresh, vital look without causing wounds or scars.
Looking for an effective treatment tailored to men's skincare needs? Microneedling is the answer. This minimally invasive procedure targets common concerns among men, such as large pores, acne scars, and uneven skin texture, providing remarkable improvements in skin quality and appearance.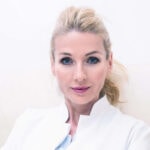 About the author:
Dr. med. univ. Eva Maria Strobl is the owner of LIPS and SKIN Aesthetic Medicine practice in Munich. She is a trained specialist in general medicine (MedUni Vienna) and has over 10 years of specialization in non-surgical aesthetic procedures. Dr. Strobl is a member of the German Society for Aesthetic Botulinum Therapy e.V. (DGBT), the German Society of Anti-Aging Medicine e.V. (GSAAM) and of Network Global Health. She publishes regularly on her blog and on DocCheck.