Youthful: Yes, Please! Artificial: No, Thank You!
From numerous treatments and patient conversations, I understand your desire for a youthful appearance while simultaneously worrying about artificial-looking results. The range of therapies I offer for wrinkle treatment in my practice in Munich addresses this feedback from patients.
Discover how Botox, dermal fillers, or thread lifting can visibly rejuvenate the face while maintaining a natural appearance. Decide how visible the signs of aging are on you without having to accept an artificial-looking effect.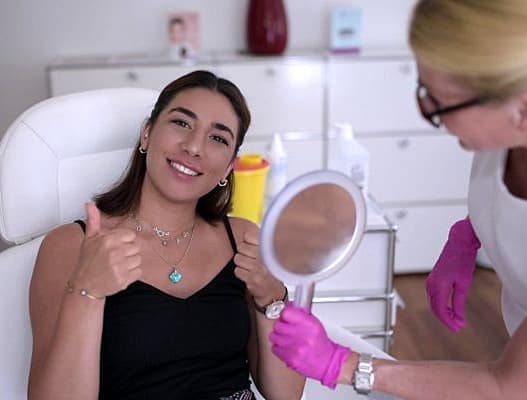 Immediately Visible Results
As a patient, you actively participate in the process and shape the result. Facial treatments at LIPS and SKIN in Munich usually show visible results immediately or within a few days.
There are no surprises. No unwanted effects. What you already like in the practice when you look in the mirror will get even better in the days and weeks after the treatment. What is not yet perfect can be optimized at the follow-up appointment.
Focus: Your Desires and Concerns
I am trained in all the facial treatments I practice. My expertise is also based on the experience of several thousand treatments. Thanks to my competence in wrinkle treatment, you as a patient receive comprehensive and reliable advice that addresses your needs and takes your concerns seriously.
Together with you, I develop a tailor-made anti-aging plan. It only contains what really helps you and corresponds to your type. True to my maxim "Attractive at any age", we aim for natural results and an appealing appearance as the goal of your individual wrinkle treatment.
I consider my treatment successful when you not only find the result visually successful but also feel comfortable in your "new" skin.
Modern Therapies, Natural Look
In my Munich practice, patients seek help for various reasons. People of all ages, genders, and with different concerns are welcome. Many "beginners" in wrinkle treatment find their clearly visible frown line disturbing and want to achieve a more sympathetic appearance through Botox. Young women often hope for more lip volume or an improvement in their skin structure through microneedling. Male patients may find microneedling an effective method against acne scars. For middle-aged people who already have various signs of aging on their face, detailed advice is essential to find the optimal facial treatment.
Over time, age-related changes in skin, connective and adipose tissue, muscles, and bones become more and more prominent for patients. To achieve an optimal treatment result, it is then no longer sufficient to only consider a certain facial region. Rather, a holistic approach to facial rejuvenation is required. The nasolabial fold, for example, often arises from a sagging cheek area. Isolated treatment with hyaluronic acid without solving the actual problem only leads to limited success. Modern methods such as liquid lifting with special fillers or thread lifting with Silhouette Soft threads allow tightening effects in many cases that were previously only achievable through surgical procedures.
Facial rejuvenation at LIPS and SKIN in Munich is interesting for women and men who want to decide for themselves how strongly age is visible on their exterior. The trend has long since moved away from wanting to be "forever young". Instead, the goal of facial treatment is now to look vital and fresh according to your age. With a natural, sympathetic look. "Attractive at any age" is my maxim, which I live myself and with which I always do my best for my patients.
Botulinum Toxin (Botox)
Botox (short for Botulinum toxin) is a medication that has been proven for three decades, has been tested in numerous clinical studies, and can be used in a variety of ways in wrinkle treatment. It can help reduce forehead wrinkles, frown lines, crow's feet, and other expression lines on the face.
In many cases, it is suitable for a simple and quick Gummy Smile correction. In addition, it has also proven successful in the therapy of neurological ailments such as chronic migraines, excessive sweating, and bruxism.
A treatment with Botox is uncomplicated, quickly effective, and low-risk. This is an important aspect that is often misjudged, so Botox is put behind in favor of much riskier methods like dermal filler. If you decide on treatment with Botox, you can rely on your individual needs and concerns being taken into account. Botox at LIPS and SKIN offers you a wide range of therapeutic options, while your safety and satisfaction are always the top priority.
Micro-Botox
If you are looking for a way to reduce fresh, light wrinkles, then Micro-Botox (often also called Baby Botox) could be an interesting option for you.
With Micro-Botox, Botulinum toxin is injected superficially into the skin in a higher dilution. The underlying muscle is not affected. This reduces the risk of mimetic impairments and is therefore a gentle method for light wrinkles. Micro-Botox can be particularly effective in treating initial lines on the forehead.
Micro-Botox can also be used to reduce large pores and oily skin. If you decide on treatment with Micro-Botox, you can be sure that your concern about a possibly artificial facial expression will be addressed in the best possible way.
Dermal Filler
If you are looking for an effective way to reduce deep wrinkles and restore lost tissue volume, injection with hyaluronic acid and hydroxyapatite could be interesting for you. This method is versatile and offers several benefits, such as increasing skin moisture and regenerating tissue through collagen formation.
Innovative products like the new HArmonyCa, which combines hyaluronic acid and hydroxyapatite in one filler, make it possible to reduce wrinkles while simultaneously regenerating the tissue. Similarly, novel fillers with polymerized polynucleotides have a similar effect. Or the revolutionary PROFHILO, which acts like native hyaluronic acid but still lasts a long time.
The choice of the filler that is optimal for you depends on your aesthetic preferences and the desired durability of the result. I am happy to advise you on the choice of product and can draw on experience from countless treatments.
Lip Augmentation
Are you looking for the perfect smile and want your lips to appear fuller and more sensual? Lip treatment with hyaluronic acid offers a great way to achieve exactly that – more volume and a beautiful shape, according to your individual ideas and needs.
Perhaps you are also concerned about the fine lines and wrinkles that develop around the lips over time, such as smoker's lines on the upper and lower lip or marionette lines in the extended mouth area. Don't worry, hyaluronic acid is usually good for treating these unwanted signs of skin aging as well.
The mouth area is particularly susceptible to skin aging, as it does not have supporting fatty tissue in the subcutaneous layer. Therefore, it is crucial to entrust yourself to experienced and medically competent hands for lip injections in order to achieve optimal results.
Thread Lift
An interesting option for skin tightening without surgery is thread lifting. This method uses thin threads that are placed under the skin to stimulate collagen formation and tighten the tissue. It is not only an effective and uncomplicated solution against wrinkles but can also be used for a partial or complete facelift without a scalpel.
Thread lifting is not only suitable for the face but can also be applied to the body and extremities. In my practice, I offer both PDO threads and Silhouette Soft threads to address your individual desires and concerns.
However, it is important to understand that thread lifting is not a quick "to go" treatment that you can simply do during your lunch break. Such representations are misleading and do not correspond to reality. Successful thread lifting requires good preparation and subsequently a few days of absolute rest. For this reason, I do not perform thread lifting as the only treatment in my program immediately following the initial consultation. Your needs and concerns are in the foreground, and I want to make sure that you feel well taken care of and informed before you decide on thread lifting.
Fat Dissolving Injection
Are you looking for a natural way to get rid of unwanted fat pads? The fat-dissolving injection could be the solution you are looking for. This method is particularly suitable for local problem areas such as the chin, upper arms, stomach, or pubic mound. In addition, it can also be used in conjunction with wrinkle treatment with Botox or hyaluronic acid.
However, it is important to emphasize that the fat-dissolving injection is not a substitute for a diet and is less suitable for larger fat pads on the stomach, hips, or thighs. To achieve visible results, several applications are also required.
So, if you desire faster results or your fat pads are not limited to local areas, liposuction may be the more effective method.
Autologous Blood Therapy with PRP & PRF
You may have already heard of PRP (Platelet Rich Plasma), an innovative autologous blood therapy that can naturally revitalize your skin and hair. PRP regenerates skin cells, helps against dark eye circles, and brings a gentle glow back to your face. It can even help to stimulate hair growth again.
The secret behind PRP lies in the growth factors contained in the blood platelets (thrombocytes). During the treatment, these factors are extracted from your own blood and introduced in concentrated form into the desired treatment area. There, they activate the body's own healing powers, attract fibroblasts and stem cells, and stimulate their multiplication. In this way, the tissue is naturally renewed and revitalized, without the use of artificial substances.
In wrinkle treatment for the face, PRP is often combined with microneedling, also known as Vampire Lifting. This combination enhances the regenerative effect and supports an even more pronounced rejuvenation of the skin.
Based on the same mechanism of action, there is a further development of PRP called PRF (Platelet Rich Fibrin). This also involves the release of the body's own growth factors. Only the extraction of PRF from the patient's blood is slightly different than with PRP.
Microneedling
If you are looking for a method to rejuvenate your skin and improve fine lines, acne scars, or stretch marks, then microneedling might be the solution. In this treatment, the skin is perforated with thousands of fine needle pricks to trigger tissue regeneration in deeper layers of the skin.
Similar to the previously described PRP treatment, the micro-injuries that microneedling causes in the skin set the body's own healing process in motion. The result is the formation of new collagen, elastin, and hyaluronic acid. In addition, new blood vessels are formed that revitalize and renew the entire treatment area.
With repeated application, the regenerative effect of microneedling can be strong enough to not only cause fine lines to fade and improve the overall complexion, but also to alleviate acne scars or stretch marks.
Let me advise you in detail and find out if microneedling is the right method for you to give your skin a fresh, rejuvenated appearance.
Dissolving Hyaluronic Acid with Hylase
Hylase is a medication that can help you if unwanted results or complications occur during wrinkle treatment with hyaluronic acid. Hylase can then dissolve the injected hyaluronic acid to give you a satisfactory appearance again.
Please note, however, that Hylase is made from bovine protein and therefore has allergenic potential. For this reason, it should not be used recklessly. The use of Hylase in my practice is limited to actual emergencies, such as inflammation, infections, or arterial occlusion, as well as aesthetically unfavorable results.
In the consultation, we must therefore carefully weigh whether Hylase is appropriate in your case and whether there are no major risks to be expected. Because your safety and health are my top priority.
In the world of facial treatments, there are countless options, all aimed at providing each patient with an individual solution. Here in my Munich practice, I have developed a five-step scheme that standardizes the process of my treatments without neglecting the personal needs of my patients. This approach allows me to maintain the quality of the results consistently while ensuring the safety of my patients.
Consultation
At the beginning, we take enough time to discuss your initial situation and aesthetic goals together. We clarify important questions such as: What do you want to achieve with the treatment? Are your expectations realistic? What about costs and possible risks? Although complications after wrinkle treatment are rare, you should be aware that they can occur. Are there perhaps alternative procedures that are a better fit for you or are more cost-effective? Do certain contraindications need to be considered?
Once all your questions have been satisfactorily answered, you will be asked to sign a consent form for the treatment and a fee agreement. This will set the costs in a binding manner, so there are no unpleasant surprises. This first phase lasts about 15 to 30 minutes.
As a rule, the therapy follows directly after the consultation, unless you would like to take a few days to think it over. In this case, we will schedule a separate appointment for the actual treatment. For new patients who wish to have thread lifting, this is even mandatory.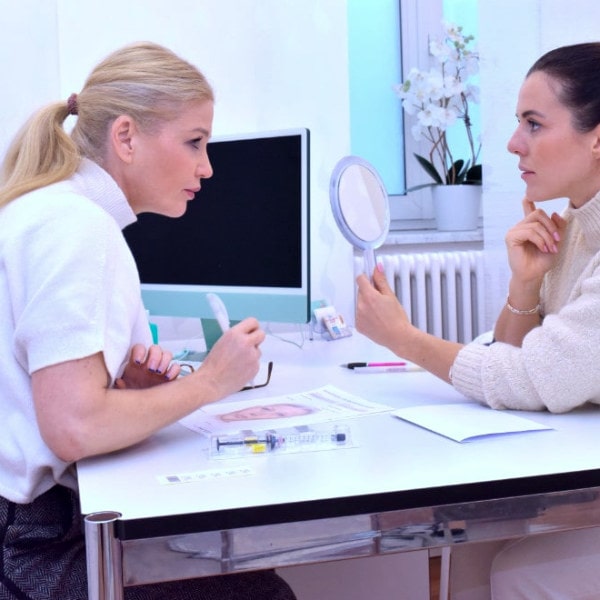 Local Anesthesia
For some treatments, it is necessary to apply local anesthesia, while this is not the case for others. Nevertheless, I always recommend anesthesia for more extensive hyaluronic acid injections or Micro-Botox injections. Procedures such as thread lifting and microneedling are performed exclusively with local anesthesia.
I usually use either a numbing cream or injections for anesthesia. The cream requires an exposure time of about 30 minutes, which extends the total duration of the treatment. In contrast, injections work immediately, so there is no additional waiting time.
It is important to note that lidocaine and other painkillers can cause allergic reactions and are contraindicated in some cases, especially during pregnancy and breastfeeding. For this reason, it is essential to speak openly and comprehensively about possible contraindications during the preliminary discussion. This ensures that the chosen treatment is optimal and safe for you.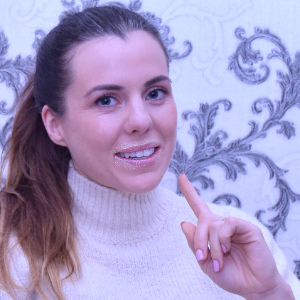 Cleaning and Disinfection
Careful cleaning and disinfection of the area to be treated are crucial to minimize the risk of bacterial infections. For this reason, it is important to remove makeup residues and other impurities. After thorough cleaning, I take some photos to document the current state of the area to be treated before therapy.
Although photos can sometimes be challenging due to different lighting conditions, they are still helpful in making the progress from one treatment to the next visible. Subsequently, I disinfect the face with a skin-compatible disinfectant. This important step takes only about 5 minutes and ensures a hygienic and safe environment for your treatment.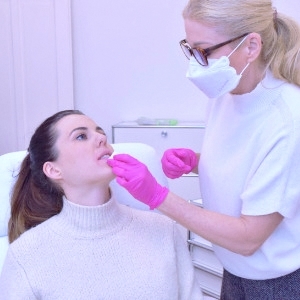 Actual Treatment
The main part of the treatment, i.e., the injection or the insertion of threads, usually proceeds quickly. A Botox treatment consists of a few injection points and often takes only a minute or even less. Wrinkle injections with hyaluronic acid or hydroxyapatite take about 10 minutes.
If neighboring areas are treated simultaneously and visually coordinated, such as the lower eyelid region and the upper cheek area, the injection can also take up to 30 minutes. Procedures like Micro-Botox, microneedling, and thread lifting require a bit more time and can take between 30 and 45 minutes, depending on the size of the area to be treated.
For pain-sensitive patients who need short breaks during the treatment despite local anesthesia, we should also plan a little more time. My goal is always to provide you with the most pleasant and stress-free treatment experience possible.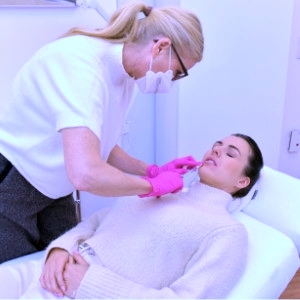 Post-Treatment Care
As soon as the treatment is complete, we take a look in the mirror together and briefly check if everything is in order and the result meets your expectations. After that, the session is over, and we schedule a follow-up appointment for about 14 days later. Should any complications arise in the meantime, please do not hesitate to contact me immediately. For this, you will receive my phone number.
I ask my patients, especially after filler injections, to pay close attention to changes in the first 48 hours after the treatment. Does the treated area hurt? Are there bluish or grayish discolorations? Are pimple-like blisters forming? Although complications are rare, they can occur, and in such cases, quick action is required.
For injections in the area of the glabella (forehead) and nose, I ask my patients to spend an additional 30 minutes in the waiting area after the treatment so that we can perform a final check. Your safety and satisfaction are extremely important to me.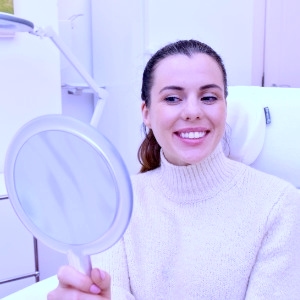 Risks of Facial Treatments
In my practice in Munich, I place great emphasis on providing you with safe and effective non-surgical facial treatments. The risks are generally low, with the most common side effects being redness, swelling, and bruising, which usually subside within a few days.
It is important that we work together to clarify possible allergies and intolerances to medications and preparations, including anesthetics like lidocaine. This helps us keep the overall risks as low as possible. Treatments with injections also always carry a certain risk of infection, but I do my best to minimize it.
Before the treatment, we discuss specific risks that depend on the type of therapy chosen. When using dermal fillers, serious complications can occur in rare cases. However, I perform such treatments with the utmost care and using special techniques to reduce possible risks.
Botox treatments are considered safe, and the risks are often overestimated in my observation. Any side effects are usually aesthetic in nature and only temporary. Other forms of therapy, such as thread lifting or the fat-dissolving injection, can cause temporary discomfort, but these symptoms usually subside within a few days.
Overall, minimally invasive facial treatments are quite safe, especially compared to surgical procedures. Nevertheless, it is important that you understand the potential risks and have a detailed consultation with me before a treatment. As an experienced therapist, I can also provide you with information on how I deal with complications and what to expect in the unlikely event of a complication. Your safety and satisfaction are close to my heart, and I look forward to working with you to achieve your aesthetic goals.
How Long Do Results Last?
The durability of minimally invasive facial treatments depends on several factors, many of which are individualized. On one hand, the technique and quality of the materials used play a role, and on the other hand, the mimic activity, metabolism, and genetic predisposition influence the longevity of the results.
For example, Botox typically lasts 3-6 months with proper application. The individual durability may lean towards the shorter or longer end of this range, depending on the strength of the underlying muscle tension (referred to as "tonus") in a person. If the tonus is weak and the wrinkles are only visible when the muscles are contracted but not at rest, the effect of the Botox injection may last longer. However, if wrinkles are still visible at rest, indicating strong muscle tonus, the effect of the Botox injection may fade after approximately 3 months.
With fillers, a similar principle applies, with the additional factor of material quality. Cross-linked hyaluronic acid fillers of the latest generation promise a durability of 9, 12, or even 18 months, while cheaper products typically last around 6-9 months. The individual durability of the results is strongly influenced by mimic activity and the facial region that was treated. For example, lip augmentation with the best hyaluronic acid filler rarely lasts longer than 9-12 months due to the high level of mimic activity in the lips. On the other hand, treatments in the under-eye region and cheeks often maintain their results for up to 2 years. Additional factors that come into play with hyaluronic acid are the injection technique (droplets or continuous strands) and individual metabolism. In certain facial regions, the choice of material can also extend the durability, such as using hydroxyapatite instead of hyaluronic acid for cheeks and the jawline.
The results of thread lifting are highly dependent on individual factors. The threads themselves usually last no longer than 6 months as they are fully absorbed. The strength and number of newly formed collagen bridges in the tissue determine the degree of lifting effect afterward. The quantity and quality of the materials used also play an important role, especially with monofilament threads that rely on collagen stimulation. Placing 30 monofilament threads under the cheeks will yield a more long-lasting effect than using 10 threads. In the case of tension threads like COG, Cone, and Silhouette Soft, mimic activity is a significant factor in the durability of the results. For example, a popular "Fox Eyes" brow lift with COG or Cone threads typically lasts around 6 months at best due to strong and constant muscular activity in that facial area. On the other hand, a cheek lift with Silhouette Soft threads can still have a satisfactory effect even after 18 months.
Other treatments like microneedling, PRP (Platelet Rich Plasma), Vampire Lift, or the injection of polymerized polynucleotides usually require multiple sessions initially to achieve the desired effect. Maintenance treatments are then typically scheduled every six months or annually to maintain the results.
I have published guideline prices for individual facial treatment methods here. Prices start at around €300 in my practice and can go up to around €4,000. On average, they range from €500 to €1,000. Please note that these price indications are only rough estimates, and the actual billing for a treatment is done according to the German Medical Fee Schedule (GOÄ).
Whether it's Botox, PDO threads, or fillers, a significant portion of the costs is determined by the amount of material required, which is inevitably influenced by the size of the treatment area and the extent of aging signs. During my patients' consultations, I consider it important to shed light on the cost aspect of different treatment options and optimize the treatment plan not only based on aesthetic criteria but also with regard to budget constraints. I am very careful to recommend only measures that effectively deliver results, and I am more than willing to be held accountable for that.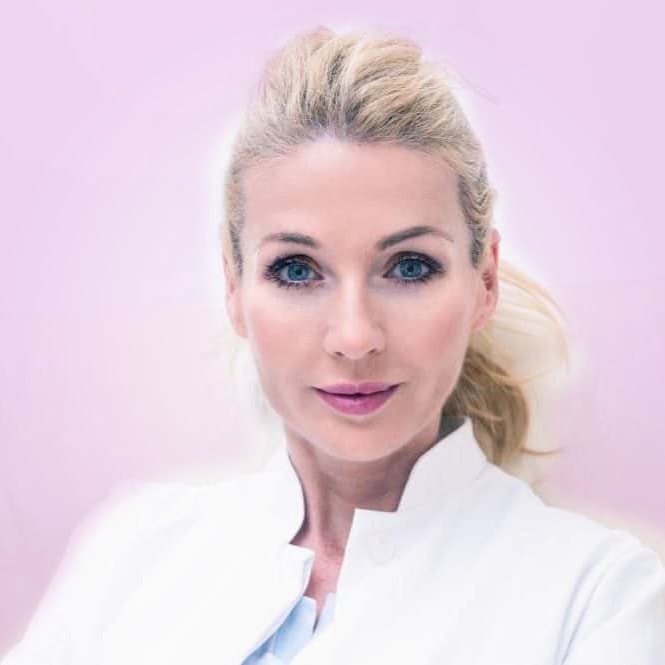 I Look Forward to Your Visit!
Book your non-binding consultation or beauty treatment. All you need is an email address and a phone number.