Which Filler for What Purpose?
Does augmentation with fillers not only smooth the skin, but also rejuvenate the tissue from within? Yes, that is possible. This is precisely what fillers made of calcium hydroxylapatite such as Radiesse or Crystalys were designed for. They not only mechanically fill lost volume or fill in wrinkles, but also stimulate collagen synthesis.
Recently, a new hybrid filler called HArmonyCa has also entered the market, combining the advantages of hyaluronic acid with those of calcium hydroxyapatite. This raises the question: Radiesse or hyaluronic acid or both – when is each filler recommended? In the following article, I will share my perspective.
These are the topics:
Hyaluronic Acid: Standard in Aesthetic Medicine
Dermal fillers used in aesthetic wrinkle treatment are typically based on hyaluronic acid. Hyaluronic acid is a versatile filler that can be used to smooth small wrinkles as well as to volumize entire facial areas. It has therefore become the standard in aesthetic wrinkle treatment.
Hyaluronic acid is also a substance that occurs naturally in the body. It is therefore predominantly well tolerated. As a filler gel, it fills wrinkles and compensates for volume loss in an excellent way, but otherwise remains passive. On the one hand, this offers the advantage of limiting the side effect profile. On the other hand, apart from its mechanical lifting effect, it does not stimulate any physical processes that could support the smoothing effect.
New Collagen Through Calcium Hydroxyapatite
The formation of new collagen fibers would be desirable as a priority. If this could be additionally stimulated by means of filler injections, then the filling effect of hyaluronic acid could be increased to a real tissue rejuvenation. The skin would be infused with additional fibers that, in addition to the effect of the filler, have a tightening and stabilizing effect and prolong the durability of the result.
Such fillers have been available for several years. They usually contain calcium hydroxyapatite. Well-known products are, for example, Radiesse (Merz Aesthetics) or Crystalys (Luminera). Fillers such as Radiesse and Crystalys do not contain hyaluronic acid, but consist of an aqueous gel containing small spheres of calcium hydroxyapatite. Calcium hydroxyapatite (also calcium hydroxyapatite or just hydroxyapatite) is an inorganic compound of calcium and phosphorus and, like hyaluronic acid, occurs naturally in the human body.
Hydroxyapatite in Teeth, Bone, and Cartilage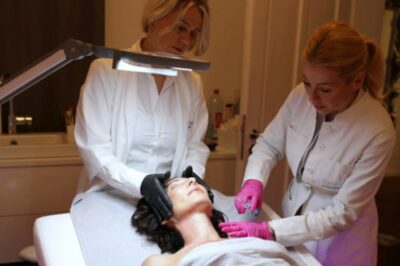 Calcium hydroxylapatite is one of the main building blocks of teeth and bones. As a substance produced naturally in the body, it is, like hyaluron, completely degradable. Calcium hydroxyapatite fillers such as Radiesse and Crystalys, like those made of hyaluronic acid, are therefore of limited durability. After a few months, the body completely metabolizes them. Aesthetic treatment with Radiesse or Crystalys must therefore be repeated at regular intervals. As is also known from hyaluronic acid fillers.
Radiesse: Not Lasting Forever, But Longer
As a rule, however, fillers such as Radiesse or Crystalys work longer than hyaluronic fillers. Radiesse, for example, advertises a shelf life of one year and longer. This is made possible by the biostimulation provided by the calcium hydroxyapatite in Radiesse in addition to mechanical smoothing. Radiesse activates the so-called fibroblasts in the tissue, which produce new collagen and elastin fibers. These fibers lead not only to a filling effect, but also to a long-lasting tightening. The tissue structure is strengthened in depth, the skin appears firmer and more elastic.
However, it takes a while for this effect to take full effect, up to 3 months. Collagen synthesis starts relatively quickly after the treatment, but it takes time. This is not the case with newer hyaluronic fillers; they usually achieve an immediate, clearly visible effect.
The new product HArmonyCa (Allergan) is now heading in this direction. HArmonyCa is a dermal filler for restoring facial volume and correcting deep wrinkles. HArmonyCa stems from Allergan's collaboration with Luminera, whose filler program they acquired in 2020. Luminera produced fillers from both hyaluronic acid and hydroxyapatite, the latter of which includes the Crystalys product mentioned above.
As the name suggests, HArmonyCa combines the two techniques hyaluronic acid (HA) and calcium hydroxyapatite (CA). Like a conventional filler, HArmonyCa consists of a matrix of cross-linked hyaluronic acid, in which very fine spheres of calcium hydroxyapatite are embedded. HArmonyCa sterile, pyrogen-free, viscous implant intended for injection into subcutaneous tissue and deep layers of the skin. For pain relief, it contains 0.3% lidocaine. The concentration of hydroxyapatite microspheres is 55.7%.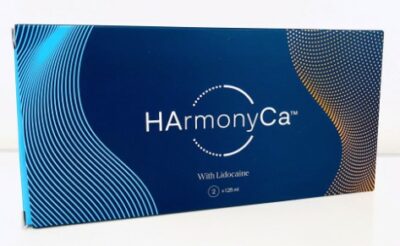 HArmonyCA: Hyaluronic Acid plus Calcium Hydroxyapatite
HArmonyCa thus combines the benefits of both techniques in one product: the filling effect of hyaluronic acid results in an immediate increase in volume. The face immediately looks fuller, the appearance more radiant. The beads of calcium hydroxyapatite also form a scaffold into which collagen-forming fibroblasts grow. It creates a formation similar to that of cartilage, which stabilizes the tissue and gives it a firm, elastic appearance. The result is a youthful-looking appearance with a long shelf life.
Treatment with Radiesse and Harmonyca
Treatment with HArmonyCa, Radiesse or Crystalys is indicated in all areas of the face characterized by deep wrinkles and significant volume loss. These include nasolabial folds, marionette lines, the cheek areas or the chin, jaw and bridge of the nose. Due to its firmer consistency, it is not suitable for smaller wrinkles, which can also be treated more cheaply with conventional hyaluronic acid.
The injection immediately reduces wrinkles and volume defects. The collagen build-up stimulated by the calcium hydroxyapatite takes about 2-3 months and only then shows its full effect. Therefore, only then should it be decided whether the result is satisfactory or whether follow-up treatment is still desired. The result usually lasts 1–2 years, often longer.
The treatment with Radiesse, HArmonyCa, or Crystalys can be easily combined with other treatment options, especially Botox and thread lifting.
When Should Fillers Such as Radiesse or HArmonyCa Not be Used?
Fillers with hydroxyapatite such as Radiesse or HArmonyCa must not be used in patients:
with a known hypersensitivity to one or more ingredients of the product, especially including lidocaine.
who have skin diseases or abnormal skin conditions.
who have an infection or inflammation in the treatment area (acute or chronic).
who are prone to keloid formation, hypertrophic scarring, or skin inflammation.
with impaired wound healing due to systemic disorders, medications, or tissue disorders.
with history of anaphylactic reactions and/or multiple severe allergies.
with known hypersensitivity to steroids or for whom treatment with steroids is contraindicated.
In addition, hydroxyapatite fillers are not suitable for injecting the glabella and periocular area or the lips and perioral area. Fillers containing calcium hydroxyapatite are also not suitable for superficial injections, as is the case with some hyaluronic acid products for skin hydration.
What Should be Observed After Treatment with Radiesse or HArmonyCa?
After the treatment with Radiesse or HArmonyCa, the following behavioral recommendations should be followed:
For 24 hours after treatment, avoid strenuous activity, direct sunlight, solarium and extreme weather conditions.
Periodically apply an ice pack or cold compress to the treated area for 24 hours to reduce redness, swelling and irritation.
Gently massage any nodules that may appear on the treated area.
Since the hydroxyapatite can still be felt under the skin several weeks after treatment, remain calm if injected filler volume can be felt. It takes time for hyaluronic acid and/or hydroxyapatite to be completely incorporated into the tissue. This is normal.
Side effects such as skin redness, edema (swelling), tenderness and itching may occur, but usually subside within 24-48 hours. If they persist longer, then be sure to contact the doctor.
With history of anaphylactic reactions and/or multiple severe allergies.
With known hypersensitivity to steroids or for whom treatment with steroids is contraindicated.
How Much do Radiesse and HArmonyCa Cost?
Due to the better effect and longer durability, fillers with hydroxyapatite are somewhat pricier than fillers made of hyaluronic acid. In addition, about 25% more filler volume is injected per injection than with conventional hyaluronic syringes with 1ml content.
Treatments with Radiesse or HArmonyCa cost in my practice from about €580. For a treatment of the complete face (4 injections) you have to estimate about €2.100. Please note that the prices quoted are indicative only. Individual billing is carried out according to the German Medical Fee Schedule (GOÄ).