The Frankfurter Allgemeine Zeitung (FAZ) visited my medical practice shortly before the start of the Oktoberfest. The reporters wanted to know how to enhance one's appearance in Dirndls and Lederhosen, particularly emphasizing the face, neck, and décolleté.
Non-Surgical Treatments for Face, Neck, and Décolleté
However, the FAZ reporters were aware that there are many more treatment possibilities beyond what I could offer with Botox and hyaluronic acid booster. Therefore, they also visited a renowned plastic surgeon in Munich who specialized in the "breasts and buttocks" area, while I focused on non-surgical procedures.
On the day of the keg tapping, the FAZ published an article featuring our contributions.
Botox And Hyaluronic Acid Booster
Together with my friend Daniela, who graciously volunteered as a model, I presented the FAZ team with my "Sexy Oktoberfest" standard routine. Which involves a small dose of Botox for the face and microneedling plus hyaluronic acid booster for the face, neck, and, most importantly, décolleté.
Botox for the Frown Lines
I limited the Botox treatment for Daniela to the frown lines, which were slightly more prominent than desired for a cheerful and friendly facial expression. With just 5 small injections, the treatment was completed! There were no other deeper facial lines in Daniela's face that required correction. Her facial expression appeared wonderfully natural and fresh. By using Botox selectively, the overall facial expressions remained fully intact, which contributes to a likable appearance.
What Is A Hyaluronic Acid Booster?
Following the Botox treatment, I performed microneedling on Daniela, as described in this testimonial. However, instead of using her own blood or micro Botox, I treated Daniela's skin with a hyaluronic acid booster. A hyaluronic acid booster, often referred to as a "skin booster," is a very thin hyaluronic acid filler that I both inject into the skin and fan out in a fan-shaped manner at certain important points.
Hyaluronic Acid for Enhanced Skin Hydration
Unlike conventional hyaluronic acid fillers, the thin hyaluronic acid in the skin booster is intended for skin hydration rather than correcting tissue loss. The hyaluronic acid booster I use is also cross-linked, which means its effects last for several months.
This distinguishes my hyaluronic acid booster from native hyaluronic acid preparations typically used as skin boosters by mesotherapists. As they are not cross-linked and lack stability, they are broken down by the body within a few hours, resulting in a short-lived effect.
Juvederm Volite in Europe, Skinvive in the US
My hyaluronic acid booster treatment at LIPS and SKIN in Munich is an advancement of the traditional hyaluronic acid injection. The product I use, "Juvéderm Volite," (in the US about to be introduced to the market under the name "Skinvive") was specifically developed as a skin booster. As of the date of this writing, it has been on the German market for approximately 2 years. It is of excellent quality, has long-lasting effects, and accordingly comes at a higher price.
A treatment with a hyaluronic acid booster provides the skin with an extra dose of moisture for several months. The thin hyaluronic acid droplets that are evenly injected into the skin, at a depth of 1-2 mm, integrate perfectly into the tissue and attract water. Hyaluronic acid can bind large amounts of water. That is why it is a natural component of the human body in all those areas where sufficient hydration is important, such as the eyeballs, joints, or indeed the skin.
As the hyaluronic acid booster is introduced into the skin rather than applied superficially like a cream, I always refer to it as the "real moisturizer" for the skin. Because no matter how good your skin cream may be, one thing it definitely cannot do is penetrate the deeper layers of the skin to unfold its moisturizing effect there. Only a skin booster can achieve that. I have described why this is the case in this article.
Not Every Booster is a Good Booster
On the market, there are a variety of cosmetic products from reputable manufacturers that also call themselves "Hyaluronic Acid Boosters." However, their mode of action is different and, despite their often imaginative names, ultimately resembles that of a regular skin cream.
Topically applied hyaluronic boosters often distinguish themselves by containing nothing more than an extra amount of hyaluronic acid. As a result, moisture on your skin is attracted more strongly by the hyaluronic acid, causing the cells of the underlying stratum corneum to swell. This creates the optical impression that the skin's appearance has improved and wrinkles have disappeared. But, of course, that is not the case.
The extra dose of hyaluronic acid on your skin can backfire as well. In environments with very dry air, especially in heated rooms during winter, the hyaluronic acid applied superficially on the skin draws moisture from elsewhere. Exactly: from your skin. That is probably not what you want to achieve when purchasing such a product.
Therefore, I would specifically advise against using such products in winter. In general, you will usually fare much better, especially in the cold season, with a lipid-based product, possibly applied only at night when you do not mind the shiny appearance of such products.
In principle, the term "booster" is not even appropriate for the treatment described in this article. "Booster" typically implies an intense surge, a concentration of forces for a brief moment.
However, that is not what my hyaluronic acid booster treatment does. It actually lasts for 4–6 months before it needs to be refreshed. Therefore, the term "skin booster" does not adequately express the crucial advantage of the treatment with Juvederm Volite.
What Is the Effect of A Hyaluronic Acid Booster?
In contrast to a moisturizing cream, the particularly thin hyaluronic acid in a Hyaluronic Acid Booster can be introduced extensively into the topmost layer of the skin. And there, it effectively moisturizes the skin from within. Well-hydrated skin is beautiful skin.
The treatment with a Hyaluronic Acid Booster reduces fine lines and brings about a graceful "glow" effect in the face, neck, and décolleté. It can also be applied to the hands if desired. The skin appears significantly fresher and younger when it is adequately moisturized with the help of a Hyaluronic Acid Booster.
How is it Done?
At LIPS and SKIN, I prefer to introduce the hyaluronic acid of the Hyaluronic Acid Booster into the skin using microneedling. Alternatively, or in addition, I inject the skin booster with a very fine cannula in a fan-shaped manner beneath the skin where I deem it necessary. Because the hyaluronic acid contained in the Hyaluronic Acid Booster is very thin, it spreads extremely well within the skin tissue.
How Often Should the Treatment be Repeated?
The optimal treatment cycle is 2–3 times per year, with 1–2 treatments spaced 4 to 6 weeks apart. If you want to combine the Hyaluronic Acid Booster treatment with microneedling therapy, the timing intervals work well for combined sessions. However, since 5–6 treatments are usually required for a successful microneedling therapy, you don't have to combine every microneedling session with a Hyaluronic Acid Booster treatment.
For optimal effectiveness of the Skinbooster treatment, it is important to follow certain guidelines in the days following the treatment. This includes ensuring sufficient sun protection, avoiding excessive physical exercise, and refraining from sauna visits. Ideally, the effects of a Hyaluronic Acid Booster last for 6 months, after which the treatment should be repeated.
Is Numbing Necessary?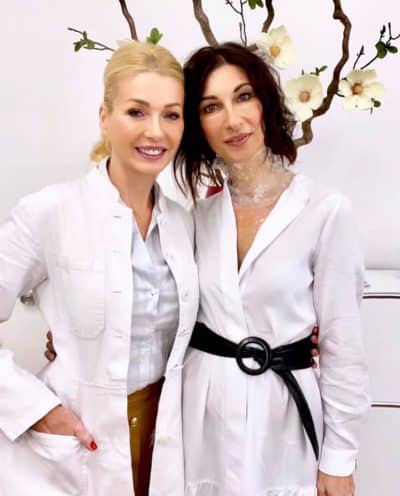 I typically administer a numbing cream before the treatment. On one hand, the administration via injection involves multiple injections, which can be uncomfortable.
Additionally, when administering the Hyaluronic Acid Booster in combination with microneedling, local numbing is necessary to alleviate the discomfort associated with the needling process.
Is There a Downtime?
When the Hyaluronic Acid Booster is administered via injection, you can resume your regular activities immediately. Redness and swelling, although unavoidable due to the number of injections, will fade quickly and can be effectively concealed.
However, if you opt for a combination treatment of microneedling and the Hyaluronic Acid Booster, stronger redness may occur due to the needling process. You may prefer not to immediately socialize while experiencing these effects. Depending on the depth of the microneedling, these redness symptoms can be visible for up to 48 hours. Therefore, it is advisable to carefully plan such a treatment around your social commitments.
What Is The Cost of A Hyaluronic Acid Booster Treatment?
An approximate price range for a Hyaluronic Acid Booster treatment via injections is around 500 euros. When combined with microneedling and other therapy options (such as micro-Botox or PRP), the costs start at 650 euros per session. Please note, these prices are indicative. All medical services are billed according to the GOÄ (German Medical Fee Schedule).