The Frankfurter Allgemeine Zeitung (FAZ), one of Germany's most reputable daily newspapers, visited me in my practice, shortly before the start of this year's "Wiesn" (the famous Oktoberfest). Topic: What can be done, and what is done to shine in Dirndl and Lederhosen? How do you make your décolleté radiant with a hyaluronic acid booster and also catch the attention of men? And they weren't content with answers, they also wanted to see a demonstration of the recommended treatments.
But since the FAZ reporters knew that a lot can actually be done, at least much more than I can achieve with Botox and Hyaluronic acid booster at LIPS and SKIN, they also visited a well-known Munich plastic surgeon. She then devoted herself to the "bust and bottom" department, so to speak, while I declared myself responsible for the face, neck, and décolleté.
On the day of the grand opening of the Oktoberfest, the "Anstich", this article appeared in the FAZ.
BOTOX AND Skin BOOSTER
Together with my friend Daniela, who thankfully volunteered as a model for the demonstrative treatment, I showed the FAZ team my "Sexy Wiesn" treatment programme: a little Botox for the face and Microneedling plus Skinbooster for the face, neck and, above all, décolleté.
I limited the Botox to Daniela's frown lines. It was a bit more prominent than it should have been for a happy, sympathetic facial expression. 5 small stitches: done! Otherwise, there were no deeper expression lines in Daniela's face that I would have wanted to correct. Her facial expression looked wonderfully natural and fresh. Since I only applied the Botox selectively, the overriding facial expression remained completely intact. And that conjures a fresh and sympathetic look onto your face.
WHAT IS A HYALURONIC Acid BOOSTER?
Following the Botox treatment, I did a microneedling on Daniela, as described in this article. However, I did not treat Daniela's skin with PRP or Micro Botox, but with a low-viscosity hyaluronic acid filler, a so-called "Skinbooster".
In contrast to the usual hyaluronic acid fillers, the low-viscosity hyaluronic acid in the Skinbooster serves to hydrate the skin from within. The Skinbooster which I use is nevertheless cross-linked, which means that the hyaluronic acid retains a stable form for several months. In this respect, my Skinbooster also differs from the non-cross-linked hyaluronic acid preparations that are often injected by mesotherapists as skin boosters. These are broken down by the body within a few hours, and their effect is correspondingly short-lived.
My hyaluronic booster treatment is a further development of the classic dermal filler injection. The product I use, "Juvéderm VOLITE", was explicitly developed as a skin booster and has been on the market for about 2 years. It is of excellent quality, has a long-lasting effect and correspondingly commands a relatively high price.
A treatment with a hyaluronic acid booster provides the skin with an extra dose of moisture for several months. The thin hyaluronic acid droplets, which are applied to the skin at a depth of 1-2 mm, integrate perfectly into the tissue and attract water. Hyaluronic acid has the property of being able to bind large amounts of water. For this reason, it is a natural component of the human body in all those places where sufficient fluid supply is important. For example, the eyeballs, the joints, or the skin.
Since the booster is applied to the skin and not just superficially like a cream, I always call them "true moisturizers" for the skin. Because no matter how good your skin cream may be, there is one thing it absolutely cannot do: penetrate the deeper layers of the skin to unfold its moisturizing effect where it is needed the most. Only a skin booster can do that. I have described why in this article.
Booster is not the same as booster
There are several cosmetic products on the market from well-known manufacturers that also call themselves "hyaluronic acid boosters". However, their principle of action is different and, despite the often fanciful names, ultimately only resembles that of a skin cream. Hyaluronic acid boosters applied superficially are typically characterized by no more than an extra content of hyaluronic acid. The result is that moisture on the skin is more strongly attracted by the hyaluronic acid, which causes the cells of the underlying cornea to swell more. This gives the optical impression that the skin's appearance has improved and wrinkles have disappeared. But of course, this is not the case.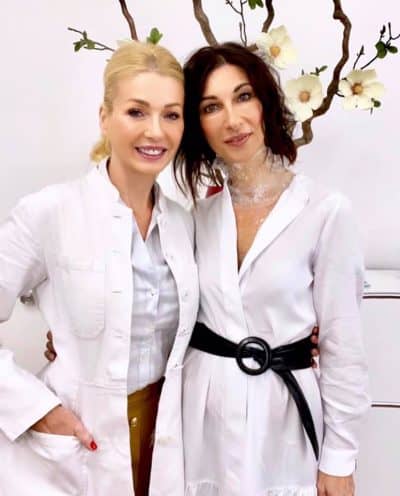 By the way, the extra portion of hyaluronic acid on your skin can also backfire: if the ambient air is very dry, especially in winter in heated rooms, the hyaluronic acid covering the surface of the skin "draws" the moisture from wherever it finds it. And that can mean: from your skin! This is probably not what you wanted when you bought the product. Especially in winter, I would advise you not to use such products. With an oil-based moisturizer, possibly only applied at night, where you don't need to be bothered by the shiny appearance, you usually fare much better.
In principle, the term "booster" is not at all appropriate for the treatment described in this article. Because "booster" typically means an intensive boost, a concentration of effective forces for a brief moment. But that is precisely what my hyaluronic acid booster treatment does not do. It actually works for 4–6 months before it needs to be refreshed. And during this time, it provides the skin with a steady dose of extra hydration. The term "skin booster" therefore does not properly capture the distinct advantage of the treatment.
In contrast to moisturizers, the particularly low-viscosity hyaluronic acid of the Skin booster can be applied to large areas of the uppermost skin layer. And there, it actually hydrates the skin "from the inside". Well-hydrated skin is beautiful skin. Treatment with skin booster reduces wrinkles and conjures up a graceful "glow" effect onto the face, neck, and décolleté. Or even the hands, if you like. In any case, the skin looks significantly fresher and younger when it is supplied with sufficient moisture thanks to hyaluronic acid booster.
How often should you do it?
The ideal treatment cycle is 2–3 times a year, 1–2 treatments at intervals of 4 to 6 weeks. If you want to combine the skin booster treatment with microneedling, then the time intervals are very suitable for combined sessions. However, as 5–6 treatments are usually necessary for a successful Microneedling therapy, you do not have to combine every needling session with a skin booster treatment.
For an optimal effect of the skin booster treatment, you should observe a few basic principles during the days afterwards, above all ensure sufficient sun protection, do not do excessive sports and avoid sauna visits. Ideally, the effect of a booster treatment lasts for 6 months, after which the treatment must be repeated.
Is topical anaesthesia necessary?
I typically pre-treat the skin with numbing cream. On the one hand, administration by syringe requires many injections, which can be rather unpleasant. And if the booster is administered with microneedling, then the local anaesthetic is necessary anyway to dull the pain of the needling.
Is there a down-time?
If the booster is administered by injection, you will be up and running again immediately. Redness and swelling cannot be avoided due to the large number of punctures, but they disappear quickly and can also be concealed well.
If you choose a combined treatment of microneedling and hyaluronic booster, the needling may cause more severe redness, which you may not want to show in company right away. Depending on the depth of the needling, these rednesses can be visible for a good 48 hours. You should therefore plan your treatment well, considering your social commitments.
WHAT DOES A BOOSTER Treatment COST?
Treatments with hyaluronic acid booster start at 450 Euros in my practice. With microneedling and other therapy options (e.g. Micro-Botox or PRP), costs of at least 600 Euros per session are typical. These prices are indicative, individual costs are billed according to the German Medical Fee Schedule (GOÄ).