Noticeably smoother skin thanks to fruit acid peeling
Improve the appearance of the skin with a chemical peel
A chemical peel makes the skin noticeably smoother and makes it look younger. Unevenness, lines and minor scars are effectively removed with a chemical peel. Fruit acids penetrate the upper layers of the skin, where they cause dead and damaged skin cells to peel off. At the same time, a chemical peel stimulates tissue regeneration. The newly formed skin appears fresher and more uniform. A chemical peel can gently improve the skin's appearance and soften lines and wrinkles, as well as pigmentation disorders.
Read below everything you need to know about chemical peel at LIPS and SKIN in Munich. These are the topics:
Your advantages with Dr. Eva Maria Strobl
Flexible dates, also bookable online
Many years of experience with chemical peel and continuous training
Sufficient time and full attention for patients
A relaxed and discreet atmosphere in comfortable surroundings
Direct accessibility via cell phone and e-mail in aftercare
Fairly calculated costs for treatments with chemical peel
Chemical peel at a glance
| | |
| --- | --- |
| Duration: | 30-60min |
| Effect holds: | 4-8 weeks |
| Anesthesia: | not necessary |
| Downtime: | none, with stronger peels 2-3 days redness possible, use good sunscreen for 3-4 weeks and avoid direct sun |
| Cost: | from approx. 120€ |
Why chemical peel ?
Chemical peel for great effect at low cost
Chemical peel improves the texture of the skin, reduces wrinkles and gives the face a fresh appearance. Fruit acids shrink the pores and thus contribute to an even complexion. The aim of a chemical peel with fruit acids is to initiate cell regeneration and renew the skin.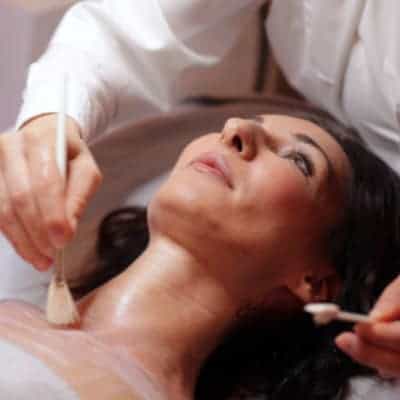 When old skin cells are replaced with new ones, it improves the appearance of the skin on the one hand, but on the other hand it can diminish minor scars, wrinkles and hyperpigmentation. Age spots can also be reduced with a chemical peel. The treatment has a comparatively low cost, which makes chemical peels an effective method for people with a limited budget.
Chemical peeling for all skin depths
Chemical peeling with fruit acids can act on different depths of the skin. We speak of superficial, medium and deep fruit acid peeling. Superficial peels with fruit acids are still performed quite often, but deep chemical peels are hardly ever performed. In their place, alternative methods such as laser skin resurfacing or microneedling have become popular. They are just as effective as chemical peels, but carry fewer risks in terms of infections, pigmentation disorders and scarring. In addition to cosmetic indications, there are also medical indications for deep chemical peels, for example in acne treatment.
A medium fruit acid peel also acts on the dermis
Superficial chemical peels only remove the already dead cell layers of the stratum corneum, the outermost skin layer of the epidermis. If the chemical peel reaches a little deeper, then the complete epidermis is peeled off up to the so-called stratum basale, the separating layer between epidermis and dermis. Medium-deep peeling also goes beyond this and exfoliates not only the epidermis, but also the upper layers of the dermis (the so-called stratum papillare).
Chemical peel for the surface
For superficial chemical peels, people like to use fruit acids. They cause fine peeling of the upper layers of the skin. As a rule, a superficial fruit acid peel acts only on the epidermis. They are not particularly strong and therefore not very dangerous. For this reason, they can also be sold directly through drugstores to consumers who want to make their own chemical peels based on fruit acids. Even skin that has only been superficially treated with fruit acids becomes noticeably smoother, purer and finer. It appears younger and more even. From a chemical point of view, fruit acids are so-called hydroxy acids. Hydroxy acids form the acidic component of many fruits, hence their nickname "fruit acids." They are also found in the human body and play an important role in cell metabolism.
Glycolic acid peel as lunch time peel
One such fruit acid commonly used in chemical peels is glycolic acid. It is obtained from sugar cane. Up to 70% glycolic acid solution can be used for superficial to medium-depth chemical peeling. Since a superficial chemical peel with glycolic acid is easy and quick to perform, it has also become known as the "lunch time peel". Patients can have it done during their lunch break and return to work afterwards. Except for a slight reddening of the face, such chemical peel does not leave any traces, therefore colleagues and business contacts will not notice anything from the treatment. In my practice in Munich, we also offer such a chemical peel as a lunchtime peel.
Effectiveness of chemical peels clinically proven
At first glance, a superficial fruit acid peel may not sound very effective. But the clinical efficacy of a chemical peel has been well established in several studies. In fact, study results show clearly that even a superficial chemical peel with fruit acids results in increased collagen synthesis and achieves the desired effect on the skin's appearance.
Other fruit acids for cosmetic purposes
Other fruit acids used in chemical peeling are lactic acid, tartaric acid and citric acid. Lactic acid is often used as an ingredient in moisturizers, and according to recent research, it is also proving to be very effective for pigmentation disorders. Depending on the patient's individual skin type and the primary therapy goal, different fruit acids can be mixed to create a very effective chemical peel.
How does a chemical peel work?
Preparation of the chemical peeling
On the day of treatment, facial toner and make-up containing alcohol should be avoided. Men should stop shaving and stop using aftershave. Before a chemical peel, the skin is thoroughly cleaned and degreased. This loosens the skin barrier of the epidermis somewhat so that the fruit acids can subsequently penetrate the skin better.
Peel application
Thereafter, the fruit acids are applied with a brush. The first peel is usually always done with a weaker acid solution, for example 20-35% of glycolic acid. The exposure time is about 2 minutes. If unpleasant side effects such as burning or stinging occur, then the application time is shortened.
Termination of the chemical peel
To finish a chemical peel, a neutralizing solution is applied to interrupt the effect of the fruit acid. Afterwards, the treated area is cooled with moist compresses, which patients usually find very pleasant. If desired, a special detox face mask can be applied after the peeling, which additionally soothes the skin and prevents inflammation. In our practice in Munich, we like to use a mask made of microsilver for this purpose.
Chemical peel after care
Make-up, soaps and facial tonic containing alcohol should be avoided for the first 3-5 days after a fruit acid peel. Since the skin is particularly sensitive to light after a chemical peel, it is essential to ensure adequate UV protection (SPF 30+) and avoid direct sunlight at all costs. Best for 3-4 weeks after treatment. Also, keep the skin sufficiently moist and protect it from dehydration, especially in winter.
Repeated peels for optimal results
A superficial fruit acid peel must be repeated several times to achieve appealing results. Usually 4-8 sessions are needed at intervals of 2 to 4 weeks. To accurately estimate your overall peel cost, keep this in mind. In the process, the exposure time and the concentration of the fruit acid are increasingly increased.
When not to use a chemical peel?
No peeling in case of infections and intolerances
A chemical peel must not be performed during acute skin infections, such as herpes simplex. Furthermore, known intolerance to any of the ingredients of a chemical peel is an absolute contraindication. Also the presence of atopic dermatitis or other eczema in the area to be treated. A chemical peel under these circumstances would only aggravate the situation.
No chemical peeling for wound healing disorders
Chemical peels should also be avoided in cases of known wound healing disorders such as a tendency to keloids and hypertrophic scars. Other aesthetic or dermatological interventions in the treated areas, mainly dermabrasion, irradiation, surgery or acne therapy with isotretinoin should be at least 3 months ago.
Increased photosensitivity, pregnancy
For patients with increased photosensitivity, it is recommended to refrain from chemical peels during the summer months or before traveling to southern countries. Finally, chemical peels should also not be performed during pregnancy and breastfeeding.
Cost of a chemical peel
A successful chemical peeling requires several repetitions
In terms of cost, a chemical peel with fruit acid is a comparatively inexpensive treatment with high effectiveness and good results. At LIPS and SKIN in Munich, chemical peels starts at about 120 €. This price is a guideline and can be significantly higher according to the needs of patients.
Please consider that multiple sessions are usually required for optimal results when judging a chemical peel by its cost. As a rule, a treatment program of 3-4 sessions with chemical peels will cost a total of 500-700 € (indicative price).
Frequently asked questions
Is a chemical peel painful?
A superficial or medium chemical peel is usually not painful. Depending on the fruit acids used in the peel and the length of the application time, a slight burning sensation may occur. As soon as the burning sensation becomes too strong or other pain occurs, the peeling should definitely be stopped immediately.
Do chemical peels help against rosacea/couperose?
A low-dose fruit acid peel can have a positive effect on rosacea and couperose. Reservations heard from medical and cosmetic circles are more related to mechanical peels. These would promote blood flow and thus actually tend to worsen the condition. However, the actual assessment depends on the conditions of the individual case.
What are the possible complications?
If the chemical peel is performed by a therapist who has sufficient experience with it, then the risks are low and complications are rare. Undesirable side effects, which occasionally occur, mainly include redness that lasts for months, temporary darkening or lightening of the skin or, sporadically, slight scarring of the treated areas.