Botox for Migraines at a Glance
Botox can be utilized in the treatment of chronic migraines to reduce the frequency and severity of migraine attacks.
The Botox injections are administered into the head and neck muscles following a specific pattern.
Botox injections are minimally painful, so anesthesia is usually not necessary.
Migraine treatment with Botox requires regular injections at intervals of about 12 weeks to achieve sustained relief.
Botox can be an effective option for patients for whom other therapies do not work or cause undesirable side effects.
The treatment starts at approximately €570 (indicative price, individual billing according to GOÄ). The costs are only reimbursed by statutory/private health insurance under certain conditions.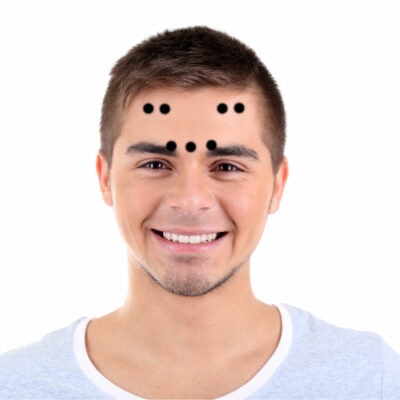 All About Botox for Migraines in Munich: The Topics
Preventing Migraines with Botox
Botox for Migraines Only as a Preventive Measure
For Botox to be effective in the treatment of migraines and to effectively reduce headaches, it must be used preventively. It is too late during an acute migraine attack. This is because the toxin takes a few days to unfold its effect. If successful, migraine attacks occur less frequently or are less intense. Ideally, both the frequency and intensity of migraine headaches are reduced by Botox.
Other Treatment Options
Botox has been approved as a medication for chronic migraines since 2011. Prior to this, there was no specific preventive measure for chronic migraines. Only the medication Topiramate, an antiepileptic drug, was considered. However, the effectiveness of Topiramate for chronic migraines is limited. In addition, severe side effects are possible, such as central nervous system disorders.
Since the end of 2018, another preparation, the monoclonal antibody 'Erenumab', has been available to reduce the frequency of migraine attacks. Unlike Botox, the active ingredient of Erenumab, also known as the 'migraine injection' or under the trade name 'Aimovig', specifically targets the CGRP receptor, which plays a central role in migraines.
CGRP is a messenger substance that is released in increased amounts during a migraine. Studies have shown that Erenumab works similarly to Botox for migraines. However, the long-term consequences of blocking the CGRP receptor with Erenumab are still uncertain, as it is the first medication to directly block this receptor. This is where Botox has an advantage, as it is considered thoroughly researched.
In addition to the preventive therapies mentioned, there are also well-known medications for the acute treatment of migraines, such as triptans and ergotamines. However, these will not be covered in this article. For episodic migraines, where both Botox and other active ingredients fail, they are an important therapeutic option.
Botox Only for Chronic Migraines
Botox is only used for chronic migraines. The prospect of cost reimbursement by health insurance also only exists for chronic cases. Chronic migraines are diagnosed when headaches occur on at least 15 days a month and last for more than 3 months.
About 1-2% of the population suffer from chronic migraines. Compared to episodic migraines, it is associated with a significantly greater impairment of quality of life. I treat several patients with Botox for migraines in my practice, even though their costs are not reimbursed by their health insurance. For them, the improvement in quality of life is worth this commitment.
Treatment Process
Consultation and Risk Assessment
A thorough consultation is the first step in a successful Botox treatment for migraines. Possible contraindications must be ruled out and potential side effects discussed. Botox is injected in relatively high doses for migraines, which can occasionally cause unpleasant symptoms such as nausea, headaches, and dizziness.
Possible Undesirable Consequence: Brow Ptosis
From an aesthetic point of view, Botox injections into the forehead, as intended for migraines, can lead to drooping eyebrows (brow ptosis). Although I try to prevent this, it cannot be completely ruled out. Brow ptosis can significantly affect the appearance and cause psychological stress.
It is also important to note that Botox for migraines is not always successful. Therefore, the patient's expectations should be realistic to avoid possible disappointments.
Existing Medications
It must also be clarified whether other medications for migraines are being taken in addition to Botox. If the current medication is at least partially effective, it should be maintained for the time being. After successful treatment with Botox, a gradual reduction of the previous medication can then be considered in order to assess the isolated effect of Botox on the migraine.
Once these questions have been satisfactorily answered, there is nothing standing in the way of the actual therapy. The dosage of Botox for migraine treatment is usually between 155 and 195 units, with the first treatment occurring in four zones with a total of 31 injection points.
Injection Scheme of Botox for Migraines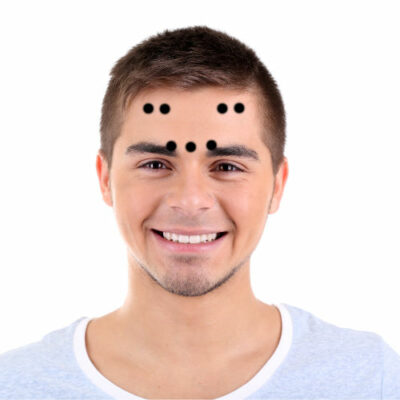 Botox for Migraines – Injection Scheme (Forehead, 7 Points)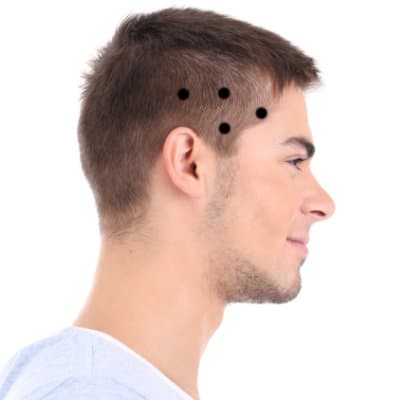 Botox for Migraines – Injection Scheme (Right Side, 4 Points)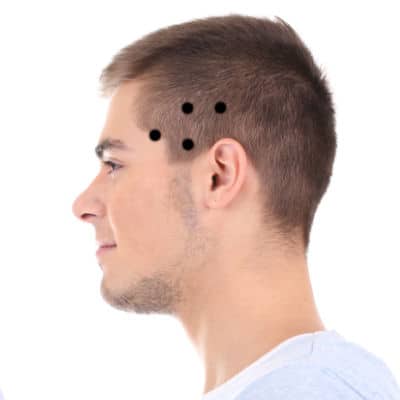 Botox for Migraines – Injection Scheme (Left Side, 4 Points)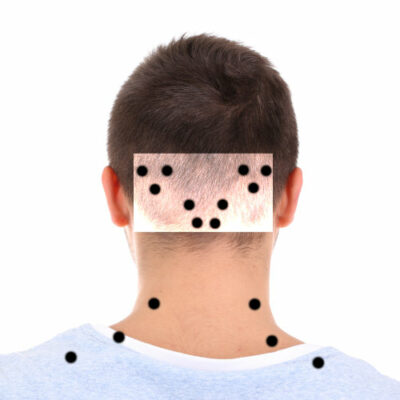 Botox for Migraines – Injection Scheme (Back of the Head & Neck, 16 Points)
If the initial treatment with this dosage does not yield successful results, a second session will be conducted with an increased dose of 195 units of toxin. The additional units will be injected into the zones where the patient experiences the most severe migraine symptoms.
For Whom is Botox Not Suitable?
Although Botox for migraines can be a good solution and provide significant relief for many people, there are some cases in which the treatment is not recommended. The use of botulinum toxin for treatment has certain contraindications that must also be considered when using it for migraines.
These include:
Pregnant or breastfeeding women should refrain from Botox treatments, as the effects on the unborn baby or the nursing infant have not been sufficiently researched.
Individuals with neurological conditions such as Myasthenia gravis or Lambert-Eaton syndrome should also refrain from Botox treatments, as they may potentially worsen the symptoms.
Individuals with a known allergy to botulinum toxin or any of the other components of the product should avoid treatment.
Individuals with an acute infection or inflammation in the treatment area must allow it to resolve before treatment can be administered.
Conclusion: Botox for Migraines is a Promising Therapeutic Approach
Treating chronic migraines with Botox can be a promising option. Although the exact mechanism of action is not fully understood, studies show a significant reduction in headaches in many patients.
It's important to have realistic expectations as the treatment may not be effective for everyone. For those who find success with Botox for migraines, it can lead to a significant improvement in quality of life. It allows patients to lead a more active life and participate more fully in daily activities.
The effects of Botox treatment last for several months and require regular maintenance sessions. Thorough education and individual assessment of the condition are crucial.
Botox for migraines can be a valuable addition to other treatment approaches and significantly improve the quality of life for those affected.
In conclusion, I hope this article has provided you with informative insights into the treatment of migraines with Botox. If you have any further questions or would like more information, please don't hesitate to contact me. Feel free to schedule a personal appointment for a detailed discussion.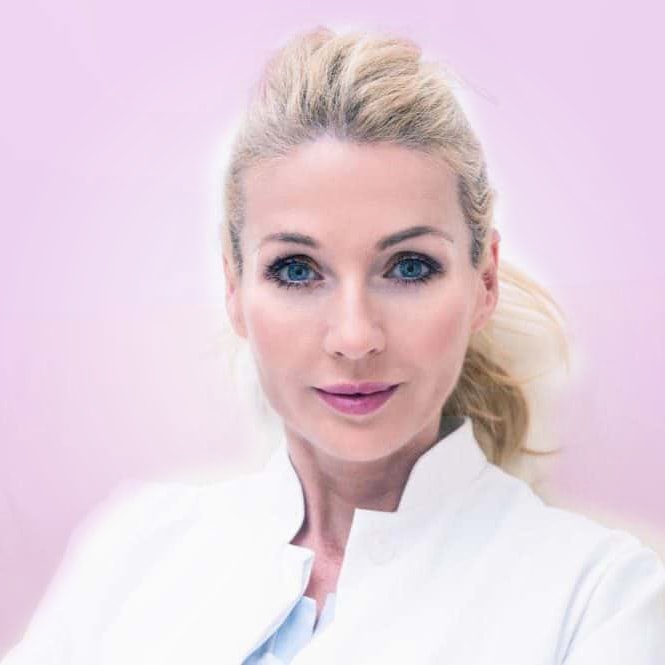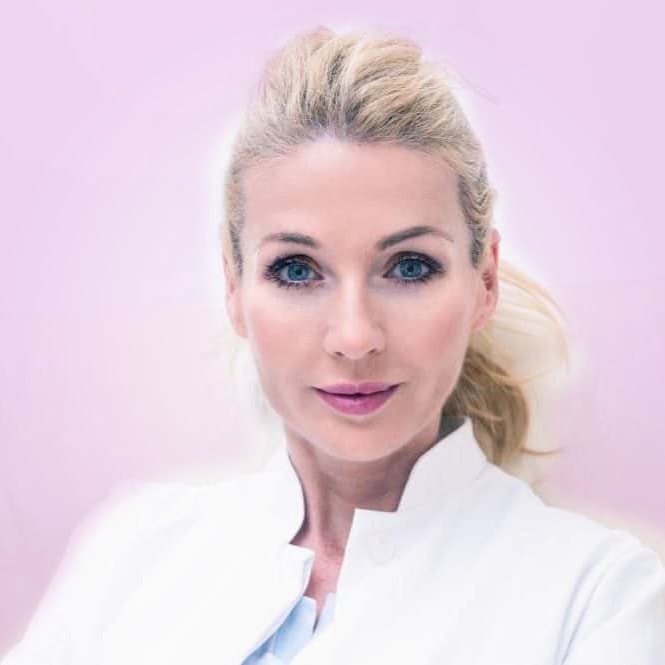 I Look Forward to Your Visit!
Book your non-binding consultation or beauty treatment. All you need is an email address and a phone number.
About the author:
Dr. med. univ. Eva Maria Strobl is the owner of LIPS and SKIN Aesthetic Medicine practice in Munich. She is a trained specialist in general medicine (MedUni Vienna) and has over 10 years of specialization in non-surgical aesthetic procedures. Dr. Strobl is a member of the German Society for Aesthetic Botulinum Therapy e.V. (DGBT), the German Society of Anti-Aging Medicine e.V. (GSAAM) and of Network Global Health. She publishes regularly on her blog and on DocCheck.