Masseter Botox At A Glance
Botox is a neurotoxin that relaxes the major chewing muscle (masseter) and can therefore alleviate or eliminate teeth grinding.
In addition to its use for teeth grinding, Botox in the masseter muscles is also employed for aesthetic purposes such as facial slimming.
Since Botox is metabolized by the body, its effects are temporary. The results typically last for 4–6 months. Thereafter, Botox needs to be injected into the masseter muscles again.
Botox injections in the masseter muscles usually do not require anesthesia.
Typical side effects of Botox injections in the masseter muscles include redness, swelling, and bruising. They usually subside within 2–3 days.
Masseter Botox does not require any downtime. You can resume your normal activities immediately after the procedure.
The initial appointment for Masseter Botox treatment typically lasts 30–45 minutes, while follow-up appointments typically take 15 minutes.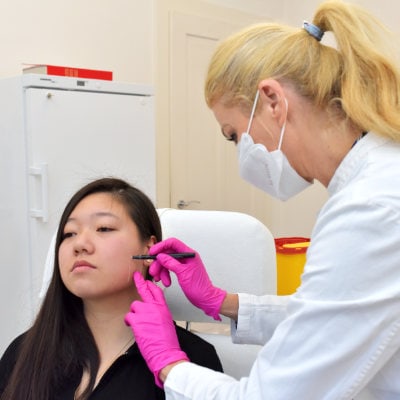 Everything About Masseter Botox: The Topics
Treatment Video Botox Masseter
The Treatment Process
In Germany, Masseter Botox does not have an official approval. Therefore, doctors use Botox for the treatment of bruxism in a practice known as off-label use. This means that an approved medication is used for a different treatment than what it was specifically approved for. It is important for patients to know that doctors have an extended duty to inform them about off-label treatments.
Self-disclosure and patient consultation
As with any other therapy, Botox treatment for bruxism is administered only after clarifying any potential contraindications and providing information about risks and side effects. A detailed self-disclosure from the patient is therefore essential, followed by an extensive conversation. Existing medications, possible pregnancy, or ongoing lactation play a central role in these discussions.
Dosage and injection scheme
For Botox against teeth grinding, typically 50–60 units of the toxin are distributed into 4-6 injection points on both sides of the face. The injections are targeted at the deeper regions of the masseter muscle. The 4 points where I administer the toxin using a very thin needle are located at the anatomical areas marked in black:
Onset of action and duration
The toxin begins to take effect approximately 1–2 days after the treatment and reaches its full effect after about 10 days. By then, you should experience noticeable relief. If not, a supplemental dose may be necessary.
Typically, Botox for teeth grinding reduces symptoms for about 3–6 months. During this period, it gradually breaks down in the body. The speed at which this happens varies depending on individual factors and cannot be precisely predicted. On average, it is expected that the treatment will need to be refreshed every 4–6 months.
Long-term effects of the treatment include slight regression or atrophy of the masseter muscle.
Are There Risks and Side Effects?
Expected side effects of Masseter Botox include minor bruises at the injection sites. Temporary dryness of the mouth and a mild sensation of tension in the jaw area are also possible. Both of these effects usually disappear within 1–2 days.
Manageable Risks
Masseter Botox is exceptionally low-risk when all contraindications are identified and considered. However, this is only the case when the treatment is performed by an experienced and competent therapist. Concerns about the toxicity of botulinum toxin or rumored long-term damage do not hold up against continuously updated study findings.
Bone Loss After Masseter Botox?
One commonly expressed concern about Masseter Botox relates to the alleged weakening of bone structure. Indeed, studies have shown that long-term weakening of the masseter muscle can lead to changes in bone structure. For example, a Korean study with 20 patients found that long-term Botox injections resulted in a measurable reduction in jaw volume.
However, upon closer examination, this is neither alarming nor surprising. It is completely normal for bones to respond with a reduction in size and thickness when they are not in use or when the load on them is reduced.
Other studies on the same topic have indicated bone loss in the temporomandibular joint after Botox treatment. However, these studies were conducted on animals, not humans. Moreover, in these studies, not only the masseter muscle was partially weakened, but the entire musculature responsible for moving the temporomandibular joint was completely immobilized. Even then, the effect on the bone structure of the joint was reversible, meaning the thickness increased again once the muscles became active and the joint was stressed.
What does this mean? Complete inhibition is by no means intended with Botox for bruxism. According to the treatment protocol, relaxation of the masseter muscle only affects the lower part of the muscle, so the temporomandibular joint is still subject to load during chewing and various facial expressions.
Positive Personal Experiences
In my practice in Munich, I regularly perform Botox injections in the masseter muscle for both medical and purely cosmetic purposes. Some of my patients come from South Korea and have previously received Masseter Botox treatment there for several years. I am not aware of any problems or long-term effects in these patients or others.
What Is the Cost of Masseter Botox?
The costs for Botox treatment for bruxism are determined and billed individually according to the German Medical Fee Schedule (GOÄ). As an approximate guideline, I can provide you with a range of €280-€360 for Masseter Botox in my practice in Munich. This price range is based on the treatment with a total of 50–60 units of Botulinum toxin A.
The costs of Botox for bruxism are currently not covered by statutory health insurance providers. Some private health insurance companies may reimburse the costs upon request. Therefore, it is advisable to clarify with your insurance provider in advance whether they are willing to provide full or partial reimbursement.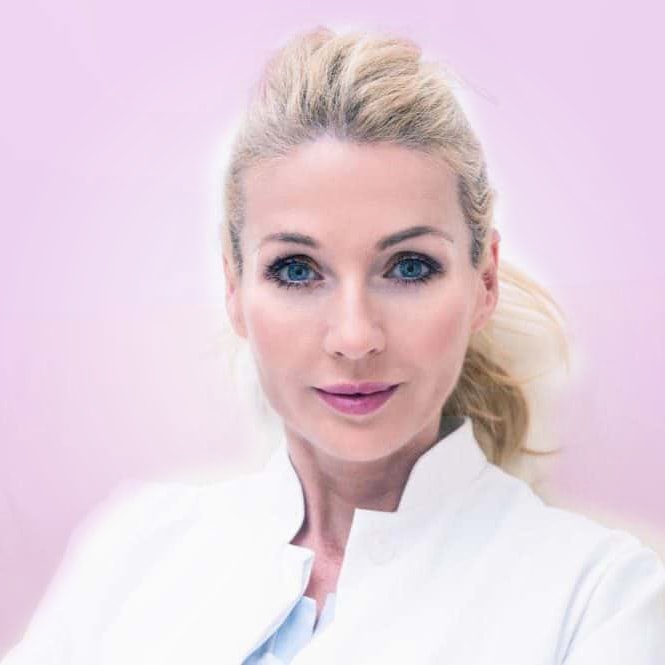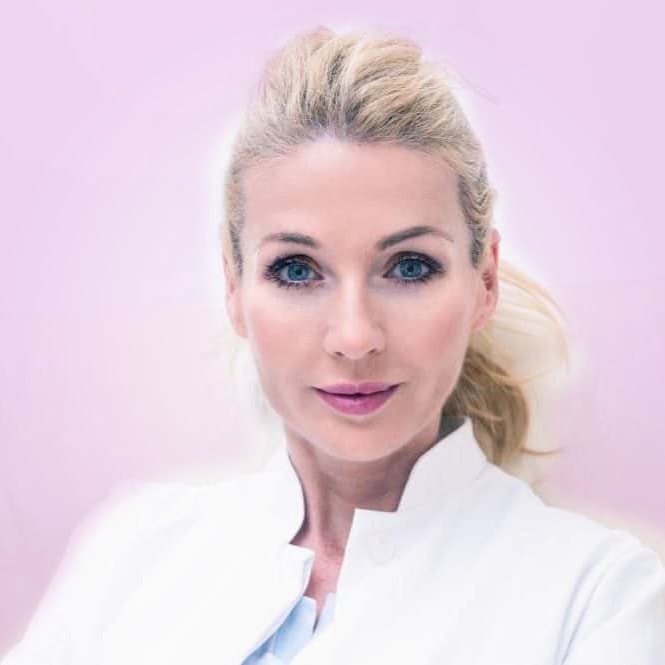 I Look Forward to Your Visit!
Book your non-binding consultation or beauty treatment. All you need is an email address and a phone number.