Autologous blood therapy for skin regeneration
PRP for an even complexion
PRP treatment (PRP stands for Platelet Rich Plasma) is an autologous blood therapy for the face, neck and décolleté. The therapy, in combination with microneedling also known as "vampire lifting", regenerates the skin, reduces dark circles under the eyes and provides a long-lasting fresh complexion. Hair loss can also be slowed down or even halted through PRP treatment.
PRP is an innovative method of facial treatment, as it does not use any ingredients foreign to the body. Instead, growth factors and stem cells contained in the blood plasma are extracted and re-injected in concentrated form. In addition to its effectiveness, PRP treatment thus also proves to be particularly gentle, as there is no risk of allergic reactions or other side effects due to the absence of substances foreign to the body. The absence of cosmeceuticals also allows for low PRP costs.
Regular PRP treatment prevents the deepening of wrinkles and ensures a sustained beautiful skin appearance. In combination with microneedling, PRP proves to be particularly effective in tissue regeneration and collagen synthesis.
Learn more about PRP treatment and vampire lifting with Dr. med. Eva Maria Strobl on this page.
Competence in PRP treatment and vampire lift
your Benefits with dr. strobl
quality thanks to specialization
Many years of experience with PRP treatment and vampire lift
Sufficient time and full attention on patients
A relaxed atmosphere in a central location in Munich
Direct accessibility via cell phone and e-mail in aftercare
Fairly calculated Treatment costs
Everything there is to know about PRP and vampire lift
The Topics:
The most important facts about PRP in a nutshell
PRP treatment at a glance
| | |
| --- | --- |
| Duration: | as injection 60min, as needling 90-120min |
| Effect holds: | 6-12 months, after 2-4 repetitions |
| Anaesthesia: | topical (numbing cream) |
| Downtime: | none, but after needling strong redness for 2-3 days, sweelings and bruising possible |
| Botox prices: | from approx. €260 as injection, from approx. €450 as needling |
Prices quoted above are indicative; actual costs are billed according to German Medical Fee Schedule (GOÄ). PRP costs are usually not reimbursed by health insurance.
Find complementary information about PRP in these blog articles
PRP and vampire lift in the blog
PRP to smooth wrinkles and conjure up a fresh glow to the face
when PRP treatment?
PRP treatment is an autologous blood therapy for improving the appearance of the skin. It is also good for treating eye shadows. PRP stands for "platelet-rich plasma". The platelets in question are the blood platelets. The platelets in the patient's own blood.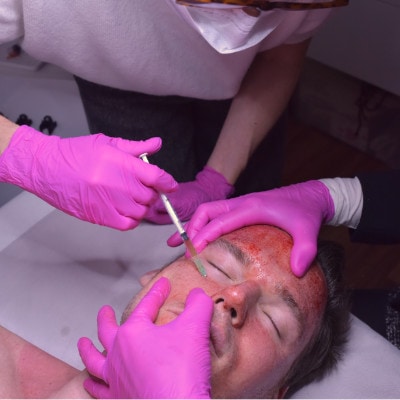 Platelets contain so-called "growth factors", which are an important part of our natural self-healing powers. They repair injured tissue, accelerate the regeneration of cells and relieve pain. Autologous blood therapy with PRP takes advantage of growth factors to regenerate the skin and even out imperfections.
NO cosmeceuticals in Prp
In PRP treatment, platelet-rich plasma is delivered to the body in high concentrations. 3-5 times higher than contained in normal blood. Autologous blood therapy with PRP is based on the fact that a higher concentration of platelets creates a local predominance of growth factors in the treated area. This can be used for many therapeutic applications, e.g. to accelerate the healing of bone fractures or joint damage. And also for cosmetic purposes to stimulate cell regeneration. And thus improve the skin's appearance , soften wrinkles and conjure up a soft "glow" on the face.
PRP treatment achieves visible results without artificial additives when used regularly. It uses only the healing powers of its own body. The absence of exogenous substances makes it well tolerated. Allergic reactions are almost impossible with pure autologous blood therapy. The consistent absence of cosmeceuticals makes PRP as effective as it is low-risk. And it keeps PRP costs comparatively low.
Combine PRP with needling to have a Vampire lift
PRP treatment can be performed as an injection or in the form of microneedling. For the latter, the term "vampire lifting" has become popular. When PRP is combined with needling, the positive effects of autologous blood therapy can be amplified.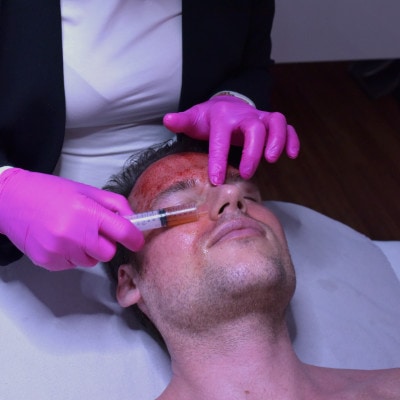 In fact, the thousands of punctures that needling creates cause small injuries under the skin. These micro-injuries kick-start the healing process of the body. New collagen and elastin fibers are formed. The growth factors required for this process are provided locally in high concentration by the PRP administered during the treatment. They effortlessly reach the deep layers of the skin through the numerous micro-channels that needling has pricked into the skin. In the deep skin layers of the dermis they exert their regenerative effect.
PRP treatment against hair loss
The regenerative effect of PRP is also used in the treatment of hair loss. In hair loss, the undersupply of cell nutrients to the hair follicles often plays an important role. PRP treatment is used both as an adjunct to hair transplantation and as a stand-alone hair root treatment. Clinically proven is the ability of PRP to stimulate hair follicles to new and increased growth. In many cases, this is sufficient to slow down or temporarily stop hair loss. Likewise, after hair transplantation, the ingrowth of follicles can be favored. What PRP treatment cannot do, however, is replace hair that has already been lost.
My personal account of my very first vampire lift
video PRP treatment + needling
PRP treatment in 5 steps – for consistent quality and utmost patient safety
PRP treatment – The Process
PRP treatment in my practice in Munich follows a fixed scheme in five steps. Since PRP typically requires a topical anaesthesia with numbing cream, and this requires about 30 minutes of exposure time to take full effect, treatment time is relatively long time all things considered. Especially when it is combined with needling. However, since patient comfort is important to me, I take the time necessary to carry it out properly.
Consultation
The first step is a detailed discussion of the patient's initial situation and aesthetic goals. What is to be achieved with PRP? Is the goal realistically achievable? What are the costs? What are the risks? Are there alternative methods that would be more suitable or cost-effective? Are there any contraindications that need to be considered? If all questions are answered satisfactorily, then the patient signs a consent form and a fee agreement. This bindingly records the costs of the treatment. Subsequent "surprises" are thus not possible. This step takes 15-30 minutes for first-time patients. It is considerably less time-consuming in subsequent treatments.
CLEANING AND LOCAL ANAESTHESIA
In order to make productive use of the exposure time of the anesthetic cream, I apply it to the thoroughly cleaned and disinfected treatment area immediately after the consultation. To increase the effectiveness of the cream, I cover the creamed treatment areas with an occluding plastic foil. This step takes 5 minutes all in all.
blood collection and preparation
Next, I take a blood sample of 15-30ml from the patient's arm vein. The blood is then centrifuged to separate the plasma containing platelets from the remaining blood components. The PRP is drawn off into several syringes. This step takes about 15 minutes.
Injection or needling
After the exposure time has elapsed, the treatment zone is cleaned of the lidocaine cream. The actual PRP treatment is relatively quick when done through injections. In this case, as a rule, it lasts no more than 15 minutes. If, on the other hand, PRP is combined with needling, then treatment time will increase to 30-45 minutes. PRP treatment of hair loss, even if performed as needling (with dermaroller), takes about 15 minutes.
Aftercare and control
After injections or needling, we take a look into the mirror together, do a quick check to make sure everything is okay, and the result meets expectations – and we are done! Due to the large number of punctures, your skin will be very red, especially in the microneedling variant. Haematomas are also possible. The traces of the treatment may remain clearly visible for 1-3 days. You should take this into account in your scheduling of important appointments or events. An on-site control appointment is usually not necessary after PRP treatment. Nevertheless, we stay in touch to monitor the healing process and to be able to react immediately in case of complications. You have my phone number for that.
Guide values for PRP costs in my practice
How much Does A PRP treatment cost?
| Treatment | Indicative price in € (incl. VAT) |
| --- | --- |
| PRP (injection) in the face | 260 |
| Vampire lifting (PRP + microneedling) on the face | 450 |
| Vampire lifting of the face, neck and décolleté | 550 |
| PRP against hair loss (injection) | 260 |
| PRP against hair loss (Dermaroller) | 290 |
| Consultation | 75 |
The prices quoted for PRP treatment are indicative. Individual costs are always billed according to the German Medical Fee Schedule (GOÄ). They may therefore deviate from indicative prices. Please note that public or private health insurance does not usually reimburse you for the costs of a PRP treatment.
What patients want to know about PRP treatment
frequently asked questions
What should be considered before and after PRP treatment?
You should not take any blood thinning medication, such as aspirin, for 14 days before the PRP treatment. Immediately before the treatment, I recommend avoiding heavy, fatty foods. In my experience, this helps to keep pro-inflammatory substances in your bloodstream at a minimum. After the treatment, you should avoid direct sunlight and wear sufficient UV protection. If you have combined PRP with microneedling, then you should definitely also ensure plenty of moisture on the treated skin areas during the days after the treatment.
When should PRP treatment not be done?
Absolute contraindications for a PRP treatment include: platelet dysfunction syndrome, thrombocytopenia (platelet deficiency), hemodynamic instability, acute sepsis, local inflammation in the treatment area. Under any such condition, treatment is absolutely out of question. Relative contraindications include: corticosteroid injection at the treatment site within one month before treatment, systemic corticosteroid use 2 weeks before treatment, fever/illness up to 3 days before treatment, cancer, haemoglobin <10 g/dL, platelet count <105/μL. Under any of these conditions, the pros and cons of a treatment need to be carefully considered.
Are PRP treatment costs reimbursed by health insurance?
You should check with your health or accident insurance company in advance to see if they will cover the cost of a PRP treatment. As a rule, health insurances, both public and private, will not cover the costs of a cosmetic PRP treatment. But there are exceptions. Cases in my practice where insurance companies have covered PRP costs related, for example, to a scar treatment after a dog bite to the face. Or to the treatment of acne scars through PRP and microneedling, by a private health insurance company. Whether health insurance would cover the costs of a PRP treatment against hair loss would have to be checked for each individual case. Normally, however, you should assume that you will have to bear the treatment cost yourself.